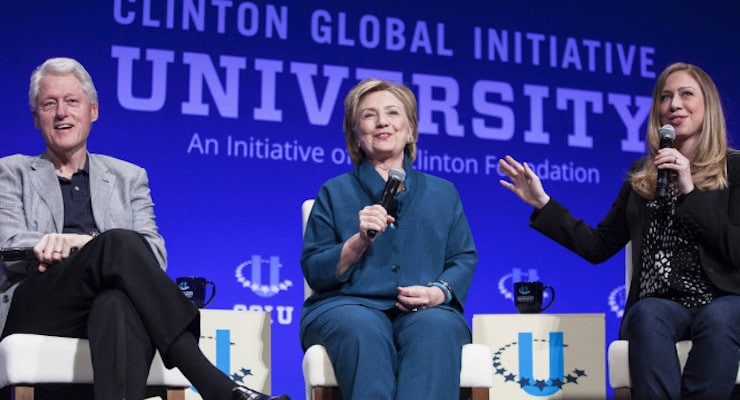 The Clinton Foundation has hired a private cyber security firm to investigate its servers for signs it was potentially hacked, Reuters reported. The request comes as the Democratic National Committee, the State Department and other players around Hillary Clinton have been plagued by scandal following the release of hacked materials by WikiLeaks and the hacker known as Guccifer 2.0.
Reuters said one of their sources and two U.S. security officials told them the hackers used "spear phishing" techniques to get access to the foundation's systems. It's the same technique the Federal Bureau of Investigation (FBI) said was used on Mrs. Clinton and her State Department aides. It involves creating fake emails or websites in order to get access to the foundation staffers' emails and then to the organization's network.
The Clinton Foundation has not yet responded to a request for comment on the report and the security company, FireEye, told Reuters they don't comment on their clients. Reuters also reported that the cyber attacks have put Democrats, including many in the Clinton campaign, into panic mode over what materials the hackers could've obtained.
Regarding Mrs. Clinton in particular, emails have surfaced revealing a "play-for-play" operation between the Clinton Foundation and the State Department during her tenure as secretary. For instance, an email sent by Jacquelyn Lopez from Perkins Cole law firm to the DNC on May 18, 2016 reveals pay for play activities. WikiLeaks founder Julian Assange made the bold claim recently the next email release will lead to Mrs. Clinton's indictment.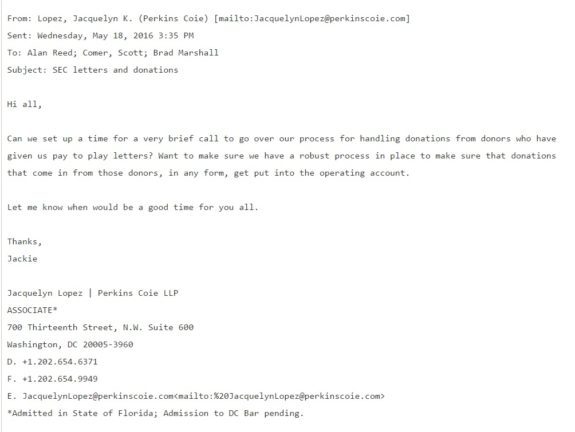 Can we set up a time for a very brief call to go over our process for handling donations from donors who have given us pay to play letters? Want to make sure we have a robust process in place to make sure that donations that come in from those donors, in any form, get put into the operating account.

Let me know when would be a good time for you all.

Thanks, Jackie"
As People's Pundit Daily previously reported, Attorney General Loretta Lynch at least twice refused a referral from the FBI to further probe the Democratic presidential candidate and others at the Clinton Foundation on charges of public corruption. Now, the Bureau has decentralized their investigation and is working with the U.S. District Attorney in New York in an effort to circumvent the Justice Department.
WATHC: Clinton allied journalist Ron Fournier discusses "pay for play" email hacked and released
[brid video="59460″ player="2077″ title="Ron Fournier Clinton Emails Blur The Lines Between Their Political And Personal Lives"]