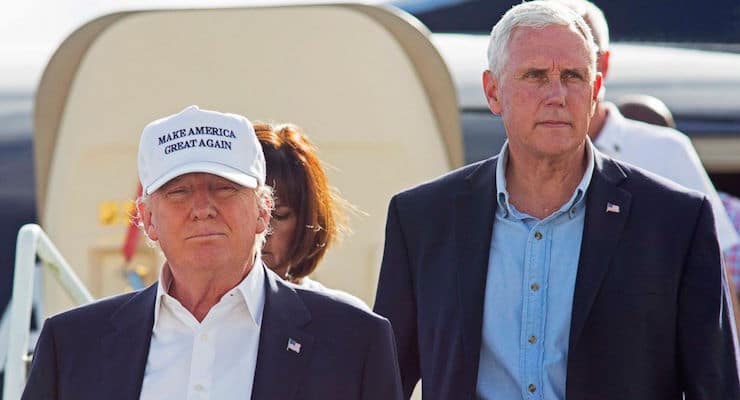 Donald Trump and Gov. Mike Pence toured the Louisiana flood devastation on Friday, forcing President Barack Obama to announce he'll visit the region. The two men received a warm welcome from the flood victims, more than 80,000 of whom have sighed up for assistance from the Federal Emergency Management Agency. The flood waters destroyed 40,000 homes and killed 13 people in in Louisiana and Mississippi, while thousands still remain at about three dozen shelters across the region.
A large crowd gathered to greet the Republican presidential ticket as they arrived, shouting their thanks and
"We knew you would be here, Mr. Trump," one woman yelled to the New York businessman. "We knew you would be here for us!"
"We're glad you aren't playing golf," another person shouted in reference to President Obama playing golf throughout the week, yesterday with "Seinfeld" creator Larry David. Mr. Trump and Gov. Pence handed out supplies to the victims during the trip his critics said smacked of political opportunism.
[brid video="59692″ player="2077″ title="Louisiana Flood Victims to Trump "We Knew You Would Be Here for Us!""]
"I came here to help," Trump told hurting victims, many of whom said they were not initially Trump supporters. Terry Phinney, 42, a maintenance supervisor at Greenwell Springs Baptist Church on the outskirts of Baton Rouge, told the LA Times the trip "was a good little boost for folks who are tired."
"I just appreciate his passion," said Mr. Phinney, whose father's home flooded. "When he looked me in the eye and shook my hand, it felt real. The guy is down here for more than just a vote. I feel like this is legit. So he's got my vote."
Phinney, who said he was not always on the Trump Train, was impressed Mr. Trump genuinely "wanted to know percentages of homes damaged in the area, around about how many would have flood insurance." Asking questions alongside his running mate during a meeting with a group of flood victims and volunteers, Mr. Trump appeared to have a desire to "educating himself" about the victims' situation post disaster. While the street was littered with housing rubble, including the church had not been damaged in the flood.
However, roughly half of the congregational staff were dealing with flood damage, and the pastor told the Times he estimated about the same percentage of the 1,300 regular attendees also were impacted.
Meanwhile, Mr. Obama, who is in Martha's Vineyard, took a break from his vacation only to hold a fundraiser on Monday for Hillary Clinton, the Democratic presidential candidate. Mrs. Clinton tweeted out about the devastation while she herself took a day off from the campaign.
Closely monitoring the flooding in Louisiana & Mississippi. The @RedCross is helping displaced families in need: https://t.co/sSYTbQMndP -H

— Hillary Clinton (@HillaryClinton) August 16, 2016
[brid video="59687″ player="2077″ title="Raw Trump Visits FloodRavaged Louisiana"]