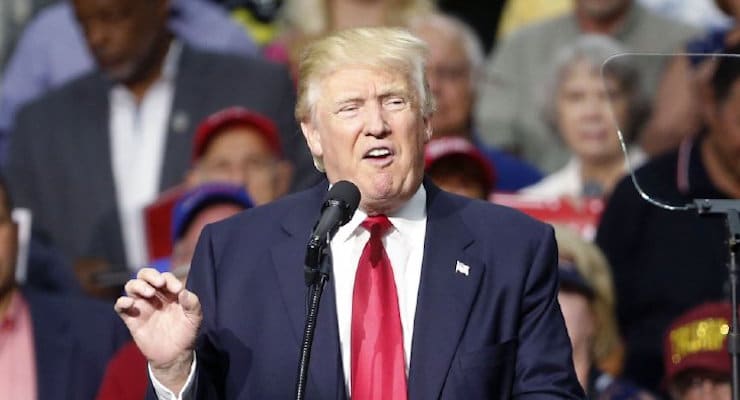 Republican presidential candidate Donald Trump called for a special prosecutor amid emails indicating a "pay-to-play" scheme at the Clinton Foundation and an apparent lie told to federal agents. Speaking to supporters in Akron, Ohio on Monday, the New York businessman said Mrs. Clinton during her tenure as secretary of state "forgot the number one rule for a public servant"–to serve the public, not yourself.
"The Justice Department is required to appoint an independent special prosecutor because it has proven itself to be, really, sadly, a political arm of the White House. Nobody has ever seen anything like this before," said Trump, who took the stage nearly an hour before he was scheduled to speak. "The amounts involved, the favors done and the significant number of times it was done require an expedited investigation by a special prosecutor immediately, immediately, immediately."
Mrs. Clinton called the attacks on her private email server and the Clinton Foundation "wacky" during an appearance on "Jimmy Kimmel Live" Monday night. She joked about the emails and the fact that pundits said she "would be dead in six months."
"So with every breath I take I feel like I have a new lease on life."
But Mr. Trump, his supporters and government watchdog groups aren't laughing. On Friday, the New York Times reported that Mrs. Clinton told the Federal Bureau of Investigation (FBI) during her nearly 3.5-hour long interview that former secretary Colin Powell had advised her his use of private email during his tenure, though he did not use a private server.
On Saturday, Mr. Powell pushed back, saying the Clinton team was trying to "pin" her actions on him. Further, he said that he did not use his AOL email to transmit classified information, as Mrs. Clinton in fact did, and the conversation he had with her was a full year after she had already set up the server, not before as she claimed during her FBI interview.
"Her people have been trying to pin it on me," Mr. Powell said over the weekend in an interview published Sunday night. "The truth is, she was using [the private email server] for a year before I sent her a memo telling her what I did."
Lying to FBI agents, specifically about material information, is a felony.
"Colin Powell just proved again how dishonest Hillary Clinton is after he busted her for trying to pin her email scandal on him – one more Hillary Clinton lie," Mr. Trump said at the campaign event in response.
The FBI will release up to 15,000 unpublished emails that were recovered during their investigation into Clinton's private server, which was one of several she used and attempted to dispose of after leaving the Obama administration. The State Department is in the process of assessing which ones can be released to Judicial Watch, who recently got a federal judge to require Mrs. Clinton respond in writing and under oath to the group's questions.
"Some former prosecutors have even suggested that the coordination between the pay-for-play State Department and the Clinton Foundation constitute a clear example of RICO (Racketeer Influenced Corrupt Organization) enterprise," Mr. Trump said at the event in Ohio. His statements follow the release of a leaked email from a Clinton-allied firm to Democratic officials actually used the words "pay-for-play" in regards to the donations.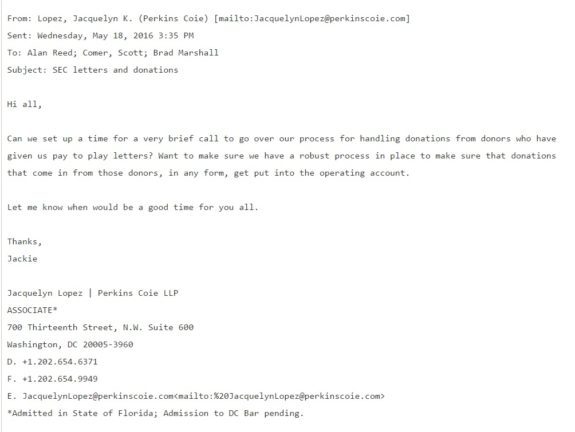 Earlier Monday, former President Bill Clinton attempted to calm the political firestorm and stop the bleeding among voters by announcing he would resign from the the Clinton Foundation's board if his wife is elected in November. The foundation also said they would stop taking money from foreign governments after it was revealed the crown prince of Bahrain gave multiple millions to Mrs. Clinton for what appears to be access. However, the Clintons made a similiar promise to the American people and the Obama administration when she was nomination by the president.