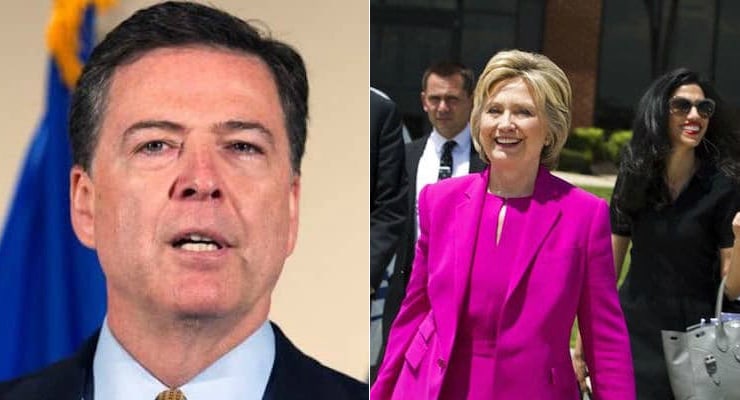 The Federal Bureau of Investigation (FBI) uncovered nearly 15,000 more emails and materials sent to or from Hillary Clinton as part of the agency's investigation into Clinton's use of private email at the State Department. The latest documents, which the Bureau sent to the State Department, were not among the 30,000 work-related emails turned over by Clinton and her attorneys in December 2014. The development comes as the government watchdog group Judicial Watch obtained emails as a result of a Freedom of Information Act lawsuit relating to the Clinton Foundation.
The State Department confirmed it has received "tens of thousands" of personal and work-related email materials–including the 14,900 emails found by the FBI–that it will review. Worth noting, that number is far higher than the "several thousand" that FBI Director James Comey said in July had been uncovered as part of his agency's investigation, and completely separate from those Mrs. Clinton has even referenced as existing in the past.
"We found those additional emails in a variety of ways," Comey explained in July. "Some had been deleted over the years and we found traces of them on devices that supported or were connected to the private e-mail domain. Others we found by reviewing the archived government e-mail accounts of people who had been government employees at the same time as Secretary Clinton…still others we recovered from the laborious review of the millions of e-mail fragments dumped into the slack space of the server decommissioned in 2013."
Meanwhile, Republican presidential candidate Donald Trump Monday night in Ohio called for the appointment of a special prosecutor amid the discovery of emails indicating a "pay-to-play" scheme at the Clinton Foundation and an apparent lie told to federal agents.
On Friday, the New York Times reported that Mrs. Clinton told the FBI during her nearly 3.5-hour long interview that former secretary Colin Powell had advised her on his use of private email during his tenure. However, on Saturday, Mr. Powell pushed back by saying the Clinton team was trying to "pin" her actions on him. He added that he did not use his AOL email to transmit classified information, as Mrs. Clinton in fact did, nor did he use a private home brew server. Further, according to Mr. Powell, the conversation he had with her was a full year after she had already set up the server, not before as she claimed during her FBI interview.
"Her people have been trying to pin it on me," Mr. Powell said over the weekend in an interview published Sunday night. "The truth is, she was using [the private email server] for a year before I sent her a memo telling her what I did."
"Colin Powell just proved again how dishonest Hillary Clinton is after he busted her for trying to pin her email scandal on him – one more Hillary Clinton lie," Mr. Trump said at the campaign event in Akron.
The State Department is in the process of assessing which ones can be released to Judicial Watch, who recently got a federal judge to require Mrs. Clinton respond in writing and under oath to their questions on the matter. Judicial Watch on Monday released 725 pages of new documents, including previously unreleased emails in which Mrs. Clinton's top aide Huma Abedin provided Clinton Foundation donors special, expedited access to the secretary of state. In many instances, the preferential treatment provided to donors was at the specific request of Clinton Foundation executive Douglas Band.
"These new emails confirm that Hillary Clinton abused her office by selling favors to Clinton Foundation donors," said Judicial Watch President Tom Fitton. "There needs to be a serious, independent investigation to determine whether Clinton and others broke the law."