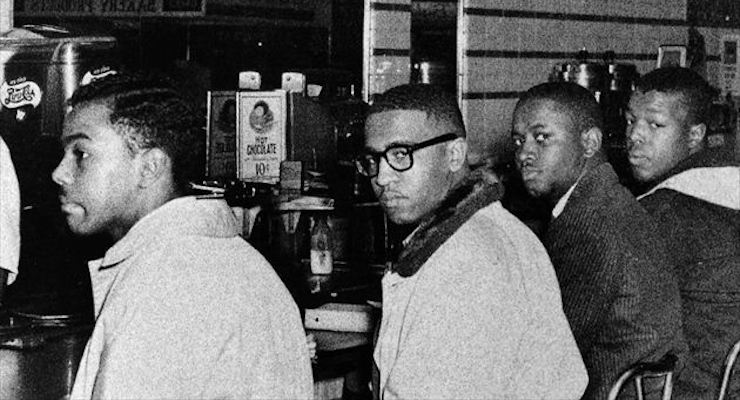 [brid video="60907″ player="2077″ title="Charles Henderson Civil Rights Leader at Historic LunchCounter SitIn Endorses Trump"]
On February 1, 1960, Charles Henderson and three other African American college students sat down at a "whites only" lunch counter at Woolworth's in Greensboro, North Carolina. When the four black men politely asked for service, the request was refused they were asked to leave.
But they remained in their seats until the store closed that night. In the spirit, philosophy and practice of Dr. Martin Luther King, their act of peaceful civil disobedience helped fuel a youth-led movement to challenge racial inequality throughout the South.
On Saturday, during an interview on "CNN Newsroom," Mr. Henderson endorsed Republican presidential candidate Donald Trump. Mr. Henderson told CNN's Jim Sciutto that he was backing Mr. Trump because of his business experience and unique understanding of how to create jobs, which black communities desperately need and have lacked under President Barack Obama.
"Donald Trump is a businessman and America is a business," Mr. Henderson stated. "In order to run America, in order to be a part of running America, you have to understand the economics of America and that we are free society."
While the Woolworth lunch-counter sit-in was not the first of the Civil Rights Movement, the Greensboro sit-ins were instrumental and the most well-known. Worth noting, the Woolworth store is now the International Civil Rights Center and Museum. Just one week after the Greensboro sit-ins began, students in other North Carolina towns launched their own protests and the movement quickly spread to other Southern cities, including Richmond, Virginia and Nashville, Tennessee.
"He knows how to create jobs," he added. "One of the biggest problems in America right now, especially in black communities, are the lack of jobs. He has proven before that he knows how to create jobs. We are a country, the land of opportunity, not the land of entitlement."
The endorsement comes as the New York businessman makes a concerted push for the African-American vote, which he says his opponent Hillary Clinton and Democrats have long-taken advantage of. It came as the GOP nominee was visiting Iowa and recognizing the 53rd anniversary of the "March on Washington," which was led by Dr. King.
"Today we honor the enduring legacy of the great Reverend Dr. Martin Luther King Jr., and the legacy of all who marched for freedom, justice and opportunity," Mr. Trump said in a statement. "Their courage, heroism and sacrifice in the face of oppression is an inspiration to us all. Now, today's leaders must work to ensure that all of our people can live in safety, prosperity, equality and peace."
Mr. Trump, joined by Dr. Ben Carson, will visit a black church in Detroit this week in the first of many outreach visits on the campaign trail.
"I've spoken a lot in recent days about the deplorable conditions in many of our inner cities. As a father, as a builder, as an American, it offends my sense of right and wrong to see anyone living in such conditions," Mr. Trump said in Iowa. "In Detroit, half of its residents do not work. In Milwaukee, almost 4 in 10 African-American men between the age of 24-54 are not employed."
"Failed Democratic policies – the policies of Hillary Clinton – have created this high crime and crushing poverty."
Look how bad it is getting! How much more crime, how many more shootings, will it take for African-Americans and Latinos to vote Trump=SAFE!

— Donald J. Trump (@realDonaldTrump) August 29, 2016
Inner-city crime is reaching record levels. African-Americans will vote for Trump because they know I will stop the slaughter going on!

— Donald J. Trump (@realDonaldTrump) August 29, 2016
Now that African-Americans are seeing what a bad job Hillary type policy and management has done to the inner-cities, they want TRUMP!

— Donald J. Trump (@realDonaldTrump) August 29, 2016