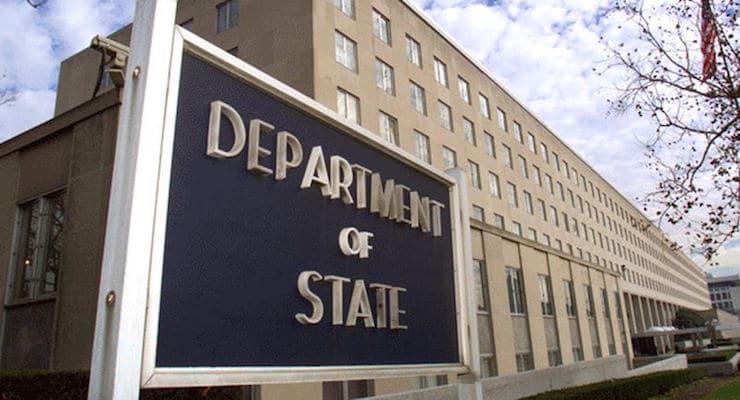 The State Department is refusing to release the daily schedule for Hillary Clinton as secretary of state until after Election Day following a bombshell report last week. The announcement comes after the Associated Press reported that more than half of those who either met or had phone conversations with Mrs. Clinton during her tenure as secretary also gave to her family's charities.
An AP review of the available material, which accounts for roughly half of her schedule and was obtained after years of stonewalling, found at least 85 of 154 Clinton Foundation donors, or 55% with private interests were given special access to the State Department and Mrs. Clinton. The review marked the first "systematic effort" to "calculate the scope of the intersecting interests of Clinton foundation donors and people who met personally with Clinton or spoke to her by phone about their needs," the AP reported.
"It's an extraordinary proportion indicating her possible ethics challenges if elected president," AP staffers Stephen Braun and Eileen Sullivan said. In total, the 85 donors reviewed by the AP contributed roughly $156 million to the Clinton Foundation, which does not include U.S. federal employees or foreign government representatives. At least 40 donated more than $100,000 each, and 20 gave more than $1 million.
The State Department thus far released only half of Mrs. Clinton's schedules and the agency told an AP lawyer late Friday that the last of the detailed schedules won't be release until sometime around December 30. The only documents that they have received were given seven months after a federal judge ordered the agency to begin releasing monthly batches of Mrs. Clinton's detailed daily schedules, which show with whom she had meetings.
Brian Fallon, a Clinton campaign spokesman, pushed back hard on the story but failed to get the news outlet to print a retraction.
"The story relies on utterly flawed data. It cherry-picked a limited subset of Secretary Clinton's schedule to give a distorted portrayal of how often she crossed paths with individuals connected to charitable donations to the Clinton Foundation," Mr. Fallon said in a lengthy statement. "The data does not account for more than half of her tenure as Secretary. And it omits more than 1700 meetings she took with other U.S. government officials, while serving as Secretary of State."
Of course, there is simply no way to fact-check Mr. Fallon because the AP only reviewed the documents they were able to obtain. The AP first asked for Clinton's calendars in 2010 and again in 2013 before it sued the State Department in federal court to obtain the detailed schedules. With the remaining documents able to prove or disprove Mr. Fallon's claim now being withheld by State Department until after the presidential election, voters are likely to go into the ballot box without knowing the full truth.
The State Department is estimating there are about 2,700 pages of schedules remaining and, following the development, the Republican National Committee (RNC) pounced. In addition to calling on the State Department and Mrs. Clinton to release the remaining material, they called the stonewalling an attempt to cover up what clearly appears to be classic quid pro quo public corruption.
"As the State Department's refusal to release Hillary Clinton's schedules show, where there's smoke, there's fire," RNC Chairman Reince Priebus said in a statement. "Making this announcement on a Friday evening is a clear signal Clinton's cronies in the State Department are desperate to bury the ongoing scandal over the pay-to-play culture she fostered while secretary of state. Hillary Clinton needs to end the stonewalling and either call for their release or release them herself."
The Trump campaign quickly joined in with the RNC to call on the release of the documents.
"It is unacceptable that the State Department is now refusing to release her official schedule before the election in full," Trump campaign spokesman Jason Miller said. "Voters deserve to know the truth before they cast their ballots. Hillary Clinton should immediately demand that these public records be released before voting begins."
Meanwhile, in a less-cited but equally damning report indicating a "pay-for-play" connection, James Rosen, the chief Washington correspondent at Fox News, reported on Tuesday a review of call logs revealed a senior executive at the Clinton Foundation left nearly 150 telephone messages for Mrs. Clinton's top aide at the State Department during a two-year period. Cheryl Mills, the longtime Clinton confidant who served as chief of staff for the entirety of Clinton's four-year tenure as America's top diplomat, received at least 148 messages from Laura Graham–then the Clinton Foundation's chief operating officer–between 2010 and 2012.
"No other individual or non-profit appears in the logs with anything like that frequency or volume," Mr. Rosen's review found.
One of the messages Graham left for Mills, in August 2011, referenced "our boss" – without further identifying that individual. Another, from January 2012, appeared to reference former President Clinton, using his initials: "Please call. WJC is looking for her [Graham] and she wants to talk to you before she talks to him."
State Department spokesman Mark Toner added that Ms. Mills and Ms. Graham never shared the same boss but insisted to Mrs. Rosen they "always" acted under Mrs. Clinton to advance U.S. foreign policy interests, "with no other intent in mind beyond that." The telephone records were finally released by the State Department as a result of an outstanding Freedom of Information Act lawsuit filed by the conservative advocacy group Citizens United.
"It's an amazing thing that the State Department spokesperson would actually make an argument that Hillary Clinton would be obligated under an ethics agreement that the White House made her sign with the foundation but her top employees would not be under that same agreement," Citizens United President David Bossie said in a statement. "I find it's just very Clintonesque."
Several voices–including Mr. Trump, Ohio Rep. Jim Jordan and liberal law professor Jonathan Turley–have called for a special prosecutor to investigate the Clinton Foundation and State Department connection for corruption. As People's Pundit Daily previously reported, the Federal Bureau of Investigation (FBI) was twice shot down by the Justice Department (DoJ) when requesting to move forward with a criminal probe. However, Attorney General Loretta Lynch flat-out refused to move forward.
"Due to the extreme circumstances involved, a special prosecutor must be appointed to investigate the true nature of the relationship between the Clinton Foundation and the State Department under Secretary Clinton," Rep. Jordan said in a statement.