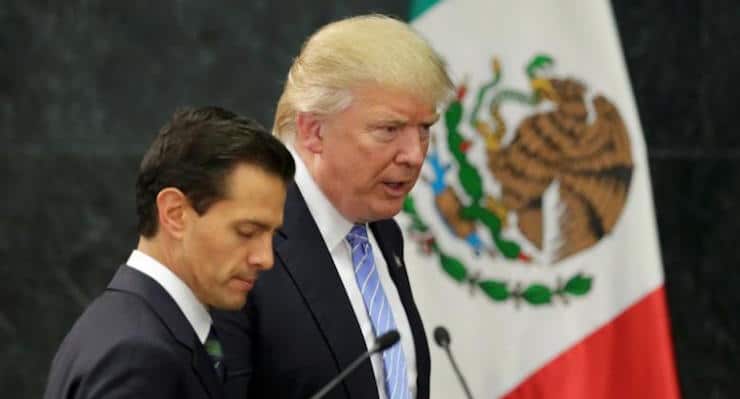 Donald Trump on Wednesday met personally with Mexican President Enrique Peña Nieto and expressed concerns over trade and illegal immigration. According to sources, Mr. Trump, the Republican presidential candidate, told President Nieto that America has a "right" to build a wall on the U.S. southern border, focused on building the foundation of a relationship in the event he is elected in November.
"We had a very substantive, direct and constructive exchange of ideas," Mr. Trump said. "We did discuss the wall. We didn't discuss payment of the wall."
He added that he sees immigration as a "humanitarian disaster" that must be addressed and solved. The Mexican president, who has falling approval rating numbers at home, tried to push back on the issue of the wall a bit following the meeting.
"What the president said is that Mexico, as he has said on several occasions … will not pay for that wall," presidential spokesman Eduardo Sanchez told Reuters by telephone.
The comments came during a visit to Mexico just hours before he is set to deliver an immigration policy speech in Phoenix, Arizona. Mr. Trump delivered a 10-point plan on immigration.
"While many people want to make this campaign about style, Donald J. Trump once again makes it about substance. He has displayed presidential leadership when it comes to dealing with our regional allies. When we talk about behavior that is in this campaign, Mr. Trump's decision to meet with President Peña Nieto should be at the top of the list," Dr. Ralph Alvarado, a member of Trump's Hispanic Advisory Council, said in a statement. "Mr. Trump proceeded to follow up this meeting with his most substantial speech to date on how to best handle the illegal immigration crisis impacting our country. Mr. Trump has shown once again why he is the most qualified candidate to become the next president of the United States."
President Nieto, who even told reporters during a joint press conference with President Barack Obama that he was "looking forward" to working with Mr. Trump, once compared him to Benito Mussolini and Adolf Hitler, allies and World War II-era fascist leaders. Now, he's singing a different tune, stating they had an "open" talk about the issues the countries face in their "joint challenge" on a shared border.
"We might disagree on several issues, but your presence here," he told Mr. Trump, "shows that we do have fundamental common ground."