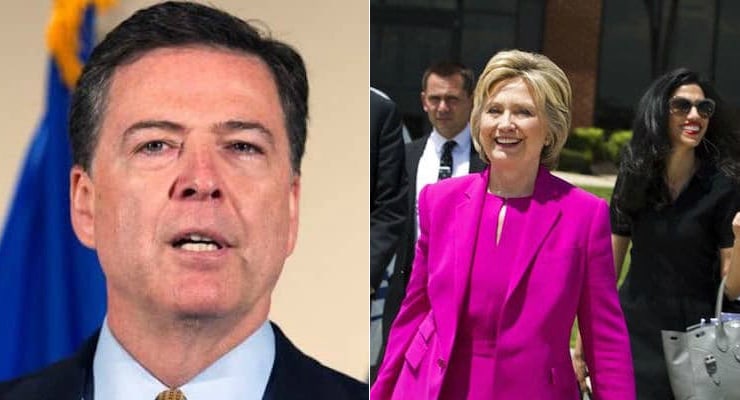 The Federal Bureau of Investigation (FBI) released several internal documents from their probe into Hillary Clinton and they show she claimed ignorance on classified material. The heavily redacted files released Friday, which also revealing large missing gaps of time and information, showed the FBI could not find some 13 Clinton mobile devices that were used to send emails from her personal email address.
That does not count an addition two iPads that were not obtained by the FBI during the criminal investigation, which the former secretary of state repeatedly referred to as a "security review" during interviews with the press. This runs contrary to the claims Mrs. Clinton made regarding her use of a private server for purposes of "convenience" at press conference at the United Nations in New York, NY, on March 10, 2015.
That was not true.
The FBI files showed the Bureau acknowledge her use of and their failure to find some 13 mobile devices that Mrs. Clinton used to send emails from her personal email address.
"The FBI's summary of their interview with Hillary Clinton is a devastating indictment of her judgment, honesty and basic competency," Republican National Committee (RNC) Chairman Reince Priebus said in a statement. "Clinton's answers either show she is completely incompetent or blatantly lied to the FBI or the public. Either way it's clear that, through her own actions, she has disqualified herself from the presidency."
The documents show Mrs. Clinton also repeatedly claimed she could not recall numerous details of material concern to the investigation or whether she attended "any briefing or training by State related to the retention of federal records or handling of classified information."
The FBI files also disprove her claim that she obtained permission for her use of a private email server, which was was allowed under the rules of the State Department." In fact, it wasn't and it wasn't even her defense to the Bureau. Mrs. Clinton claimed to have not known what the rules were. The FBI's investigation concluded Mrs. Clinton never sought or asked permission to use a private server or email address during her tenure as the nation's top diplomat, which violated federal records keeping policies.
[brid video="39291″ player="2077″ title="FLASHBACK Clinton Claimed Email Server Was Allowed Predecessors Did Same Thing"]
"It was allowed under the rules of the State Department," Mrs. Clinton told Jake Tapper on CNN during an interview on October 16, 2015. No, it was allowed. You know, one of my predecessors did the same thing. Others in our government have done the same thing at very high levels because the rules did change after I left state department. But at the time and in prior years the rules allowed it."
But the false statements made by Mrs. Clinton aren't the only we uncovered in reviewing the report. In their interview, FBI investigators claims she denied attempting to use the server to avoid accountability and preserve secrecy, instead concluding "CLINTON [sic] assumed her communications were captured by State systems. However, while she might have been ignorant to proper practice of handling classified information, the FBI is not.
The State Department only began automatically preserving emails in February, 2015. That's more than two years after Mrs. Clinton's tenure, which a State Department spokesperson confirmed to People's Pundit Daily in May immediately after the Office Of Inspector General (IG) released an audit finding Mrs. Clinton violated federal records keeping laws. Comparing the "Evaluation Of Email Records Management And Cybersecurity Requirements" with the former secretary of state's past excuses and explanations could only conclude she was lying–pretty much at every turn.
[brid video="56928″ player="2077″ title="Clinton Campaign Manager Blames State Department for Classified Information on Server"]
"Investigation identified hundreds of e-mails sent sent by [Huma] Abedin and other State staff to [redacted]presidentclinton.com e-mail address requesting him to print documents for Clinton," the FBI investigation found. "Some of these e-mails were determined to contain information classified at the CONFIDENTIAL level."
Perhaps the most concerning revelation in the FBI internal file is an unidentified witness admitting they had an "oh shit" moment after a March 2, 2015 report by the New York Times first brought to light Mrs. Clinton's use of a private email server to conduct official State Department business. "Sometime between March 25-31, 2015" they "deleted the Clinton archive mailbox from the PRN server and used BleachBit to delete exported .PST files he had created on the server system containing Clinton's e-mails."
"Investigation found evidence of these deletions."
At this point, the House Select Committee on Benghazi had been stonewalled on their May, 2014 request for some of these documents for nearly a year.