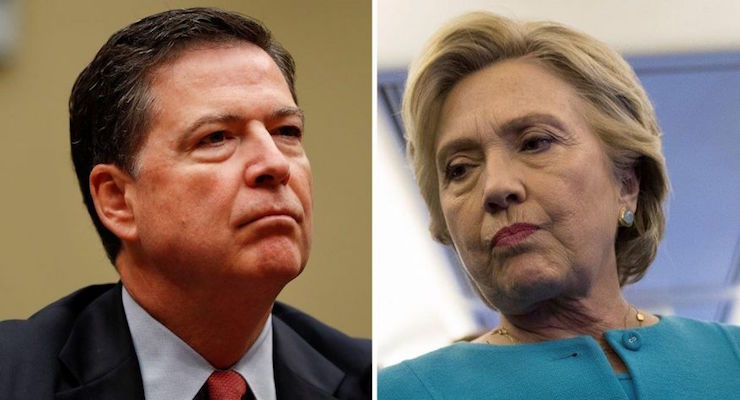 Just hours after Hillary Clinton called on the FBI to release "all the information that it has" sparking a new investigation, an internal memo surfaced. In the internal memo obtained by Fox News, FBI Director James Comey told agents he alerted Congress about reopening the investigation into Hillary Clinton's private email server because it "would be misleading to the American people" not to do so before the election.
Mr. Comey said he typically would not communicate with the public when reopening a case, but that he had to alert Republican and Democrats in Congress to this case because Mrs. Clinton is seeking the White House in an election on Nov. 8.
"Of course we don't ordinarily tell Congress about ongoing investigations, but here I feel an obligation to do so given that I testified repeatedly in recent months that our investigation was completed," Director Comey wrote. "I also think it would be misleading to the American people were we not to supplement the record.
Director Comey confirmed Friday the Bureau reopened their probe into Mrs. Clinton mishandling classified information while serving at the State Department in a stunning new development a little more than a week before the presidential election. He wrote the Bureau learned of new evidence he said was "pertinent to the investigation" during a probe in "connection with an unrelated case."
He explained why to the agents, who were in full blown revolt after his decision not to recommend prosecution and began leaking their disapproval to the media.
"At the same time, however, given that we do not know the significance of this newly discovered collection of emails, I don't want to create a misleading impression," Comey's letter continued. "In trying to strike that balance, in a brief letter, and in the middle of an election season, there is significant risk of being misunderstood, but I wanted you to hear directy from me about it."
The development also comes as the anti-secrecy group WikiLeaks has been releasing a treasure trove of emails indicating Mrs. Clinton and her staff knew the email server was not approved. Director Comey had previously said he could not prove intent, just "extreme carelessness" on behalf of former Secretary Clinton. The director had previously decided not to prosecute Mrs. Clinton as a result, which was a decision that caused a full blown revolt and agents and began leaking their disapproval to the media.
Meanwhile, the Clinton campaign was rocked by the news and was clearly completely in the dark.
"We've heard these rumors, we don't know what to believe," Mrs. Clinton told reporters during a brief news conference in Iowa Friday evening. "And I'm sure there will be even more rumors. That's why it is incumbent upon the FBI to tell us what they're talking about."
When Clinton's running mate Virginia Sen. Tim Kaine was asked Friday about the revelations, he frantically told reporters that he had to "read a little more" before making an official comment. Sen. Kaine was bombarded further with questions from reporters, but he just continued to reply "just gotta read a little more."
"Even Director Comey noted that this new information may not be significant," Mrs. Clinton added, "so let's get it out."
Republican National Committee Chairman Reince Priebus said the discovery must be "serious" for the Bureau to investigate this close to the election.
A source claimed the new emails were discovered after the Bureau seized devices belonging to disgraced former Democratic Rep. Anthony Weiner, the husband of longtime Clinton aide Huma Abedin. While she recently announced she was separating from the former congressman. The source also claimed Mr. Weiner sent sexts, sexual text message, to a 15-year-old girl.
In another twist, Republican presidential nominee Donald Trump saw this coming months ago, citing Mr. Weiner as a potential national security threat in August of 2015.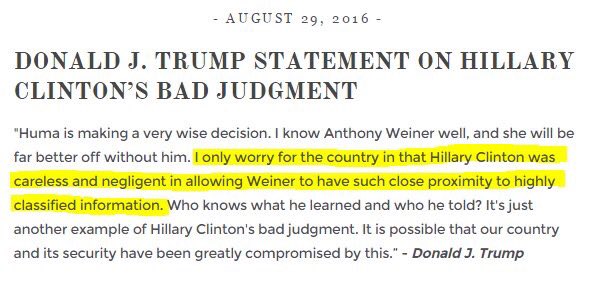 PPD also previously reported the FBI was also investigating Mrs. Clinton for public corruption relating to pay-for-play during her tenure at the State Department.