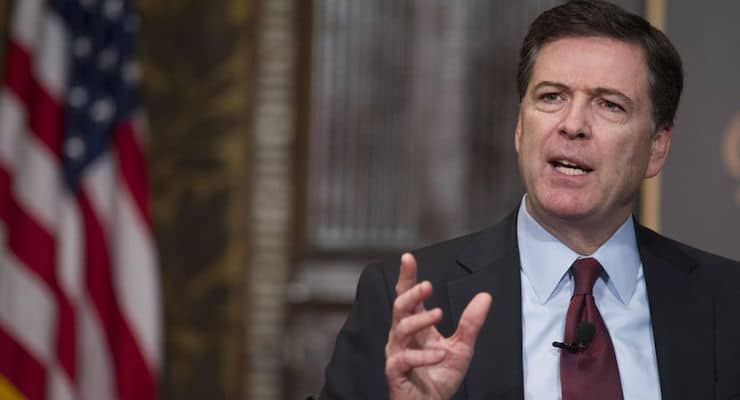 In a letter to Congress, Director James Comey confirmed the Federal Bureau of Investigation (FBI) has reopened their probe into Hillary Clinton mishandling classified information while using a private server to conduct official State Department business. In the stunning new development a little more than a week before the presidential election, Director Comey said the Bureau learned of new evidence he said was "pertinent to the investigation" during a probe in "connection with an unrelated case."
"In connection with an unrelated case, the FBI has learned of the existence of emails that appear to be pertinent to the investigation," Director Comey wrote. "I agreed that the FBI should take appropriate investigative steps designed to allow investigators to review these emails to determine whether they contain classified information, as well as to assess their importance to our investigation."
It was unclear to what "unrelated" investigation Mr. Comey was referring. However, a source claimed the new emails were discovered after the Bureau seized devices belonging to disgraced former Democratic Rep. Anthony Weiner, the husband of longtime Clinton aide Huma Abedin. While she recently announced she was separating from the former congressman. The source also claimed Mr. Weiner sent sexts, sexual text message, to a 15-year-old girl.
PPD also previously reported the FBI was also investigating Mrs. Clinton for public corruption relating to pay-for-play during her tenure at the State Department.
House Judiciary Committee Chairman Bob Goodlatte, R-Va., was pleased with the decision and said the "American people deserve no less and no one should be above the law."
"The FBI's decision to reopen its investigation into Secretary Clinton reinforces what the House Judiciary Committee has been saying for months: the more we learn about Secretary Clinton's use of a private email server, the clearer it becomes that she and her associates committed wrongdoing and jeopardized national security," Rep. Goodlatte said in a statement. "Now that the FBI has reopened the matter, it must conduct the investigation with impartiality and thoroughness. The American people deserve no less and no one should be above the law."
The development also comes as the anti-secrecy group WikiLeaks has been releasing a treasure trove of emails indicating Mrs. Clinton and her staff knew the email server was not on the up-and-up. Director Comey had previously said he could not prove intent, just "extreme carelessness" on behalf of former Secretary Clinton. The director had previously decided not to prosecute Mrs. Clinton as a result, which was a decision that caused a major revolt among the ranks at the Bureau.
House Speaker Paul Ryan, R-Wis., renewed his previous call to strip Mrs. Clinton of her security clearance and to suspend national security briefings given to presidential candidates.
"Yet again, Hillary Clinton has nobody but herself to blame. She was entrusted with some of our nation's most important secrets, and she betrayed that trust by carelessly mishandling highly classified information. This decision, long overdue, is the result of her reckless use of a private email server, and her refusal to be forthcoming with federal investigators. I renew my call to suspend classified briefings for Secretary Clinton until this matter is fully resolved."
Republican presidential candidate Donald Trump had a chance to respond to the news as he took the stage in Manchester, New Hampshire.
"Perhaps finally justice will be done. Hillary Clinton's corruption is on a scale we have never seen before," Mr. Trump said. "We must not let her take her criminal scheme into the Oval Office."
Mr. Trump then joked: "The rest of my speech is going to be so boring."
When Clinton's running mate Virginia Sen. Tim Kaine was asked Friday about the revelations, he frantically told reporters that he had to "read a little more" before making an official comment. Sen. Kaine was bombarded further with questions from reporters, but he just continued to reply "just gotta read a little more."
Republican National Committee Chairman Reince Priebus said the discovery must be "serious" for the Bureau to investigate this close to the election.
READ COMEY'S FULL LETTER: Fbi-Director-Comey-Letter-Congress
[brid video="71464″ player="2077″ title="Trump Announces FBI Re Opening Hillary Investigation YouTube"]