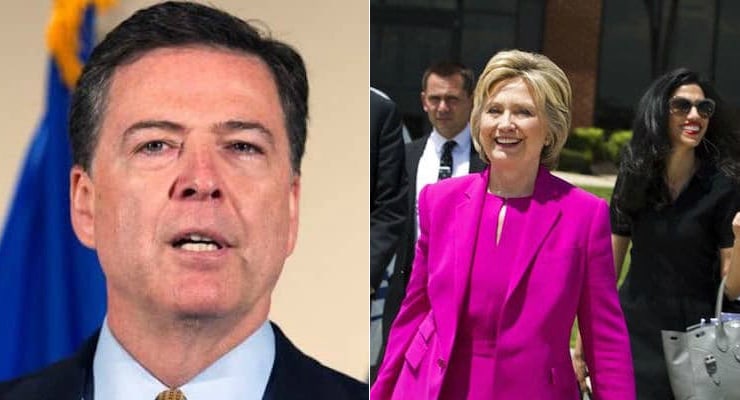 Sources at the Federal Bureau of Investigation (FBI) say Director James Comey prevented agents from properly investigating former Secretary of State Hillary Clinton over her improper use of a private email server to transmit classified intelligence. Mr. Comey did not move forward with requests for subpoenas and refused a request to obtain Mrs. Clinton's medical records to verify her answers during the roughtly 3-hour interview conducted at her home.
According to an interview transcript given to The Daily Caller, which was provided by an intermediary who spoke to two federal agents with the Bureau last Friday, Director Comey "stood in the way" of the investigation and a subsequent recommendation to the Justice Department by the FBI to prosecute Mrs. Clinton. The agents, which may or may not be the same sources for a separate report being developed by People's Pundit Daily, are furious Director Comey has led the Bureau into an era of politicization.
Director Comey said during his press conference and again during his testimony to the Oversight Committee in the House of Representatives that the decision was unanimous. But sources tell People's Pundit Daily, and apparently The Daily Caller, as well, the decision not to prosecute was far from unanimous.
"This is a textbook case where a grand jury should have convened but was not. That is appalling," said one FBI special agent, who has public corruption and criminal cases under their belt. "We talk about it in the office and don't know how Comey can keep going."
Agents had also suspected from the unprecedented set of "do and do not" rules given to them during the probe that the fix was in and began leaking details to People's Pundit Daily (among others) during the summer.
"All the trained investigators agree that there is a lot to be prosecuted but he stood in the way," the agent said, adding that he left out standard procedures that are never ignored by federal investigators conducting such a probe.
"We didn't search their house," he lamented. "There should have been a complete search of their residence. That the FBI did not seize devices is unbelievable. The FBI even seizes devices that have been set on fire."
As a result, the FBI failed to procure enough evidence to convene a grand jury, at least that was the excuse. According to the agent, the investigation should not have concluded as it did. As Judge Andrew Napolitano and others have repeatedly suggested, the director overstepped his authority and avoided the proper channels that would have taken the outcome out of his hands.
"This is a textbook case where a grand jury should have been convened, but was not," the agent insisted.
According to another special agent, investigators were livid when Director Comey' use of the word "we" when testifying to lawmakers in Congress following the decision. The agent for the bureau that worked counter-terrorism and criminal cases said he is offended by Comey's saying "we" and "I've been an investigator."
"Comey was never an investigator or special agent. The special agents are trained investigators and they are insulted that Comey included them in 'collective we' statements in his testimony to imply that the SAs agreed that there was nothing there to prosecute," the second agent said. "All the trained investigators agree that there is a lot to prosecuted but he stood in the way."
He added, "The idea that [the Clinton/e-mail case] didn't go to a grand jury is ridiculous."
Joe DiGenova, a D.C.-based attorney told WMAL radio's Drive at Five last week that agents "are starting to talk" and more will become public soon.
"People inside the Bureau are furious. They are embarrassed. They feel like they are being led by a hack but more than that that they think he's a crook. They think he's fundamentally dishonest. They have no confidence in him. The bureau inside right now is a mess," he said. "The most important thing of all is that the agents have decided that they are going to talk."