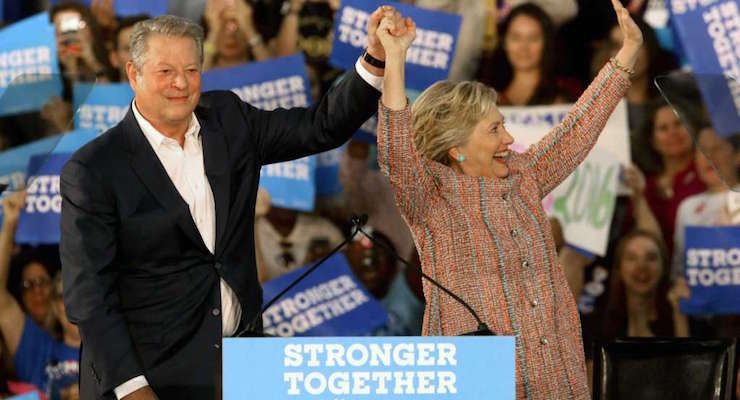 An email forwarded to Clinton campaign chair John Podesta reveals Bob Creamer, Democracy Partners founder was "consulting for the DNC and is close to Robby Mook," Clinton's campaign manager. The email was part of the latest batch released by the anti-secrecy group WikiLeaks and comes after the third and explosive video released by the election integrity group Project Veritas Action, in which Mr. Creamer directly implicated Hillary Clinton in illegal campaign coordination.
In fact, the email itself appears to support the charge that the campaign is in fact coordinating with supporting super PACs, which is prohibited by federal election law. When the video broke, DNC chair Donna Brazile claimed Mr. Creamer had no affiliation with the Democratic National Committee or the Clinton campaign, which apparently is false. Brazile was also exposed in the WikiLeaks releases for giving Mrs. Clinton debate questions ahead of the CNN townhall debate against Bernie Sanders.
"In the end, it was the candidate, Hillary Clinton, the future president of the United States," Creamer says on the video. "Don't repeat that to anyone."
*From:* Michael Lux <[email protected]>
*Date:* December 17, 2015 at 5:19:29 PM EST
*To:* "Neera Tanden ([email protected])" < [email protected]>
*Subject:* *FW: I want to talk to you about Hillary's campaign tomorrow*

Hey Neera,

Just wanted to pass along this note I sent to Bob Creamer, who as you may know is consulting for the DNC and is close to Robby Mook. Wanted to pass it along to you as well, hoping you won't take offense because I feel some urgency about this. You and Podesta are a great bridge to the DC, more establishment oriented progressive world, but I just feel like the campaign is making a mistake not doing stronger outreach to grassroots/netroots progressives. And while I don't think it will cause them to lost the primary, I do worry it makes everything tougher in that process, and it makes bringing everyone in (and getting them excited) after Bernie loses that much harder.

Am worried and frustrated, so take it with a grain of salt…
Logs show Creamer, husband of Rep. Jan Schakowsky, D-Ill., who represents the district covering Chicago, visited the White House on 342 occasions and met directly with President Barack Obama 47 times.
Creamer, along with Scott Foval, the National Field Director at Americans United for Change, were fired after the first and second videos were released by the election integrity group of journalists, Project Veritas Action. But not before they revealed that these plans to start violence at Donald Trump's rallies and election fraud schemes are either approved by Mrs. Clinton and the Democratic National Committee (DNC) or hatched by them.
People's Pundit Daily reported on the first video proving illegal communication between the Clinton campaign, super PACs and other organizations. The operatives admitted, in fact bragged, about inciting violence at Trump rallies by paying "mentally ill people," including at a scheduled rally in Chicago that nearly turned into a riot and put the lives of police officers in danger.
"It doesn't matter what the legal and ethics people say," Foval says in the opening of the video. "We need to win this motherfucker."
Mr. Foval was referring birddogging, a name the campaign and operatives use to describe tactics that incite violence at rallies for Donald Trump. The word itself, which has never before been used, further proves illegal coordination between the Clinton campaign and the PACs. When we also checked campaign emails recently released by the anti-secrecy group WikiLeaks, we found numerous references to and from Clinton campaign officials.
"DREAMers have been bird dogging Republican presidential candidates on DACA/DAPA, but they've learned to respond," Xochitl Hinojosa, the Director of Coalitions Press at Hillary for America wrote to campaign manager Robby Mook and others. "There's an opportunity to bird dog and record questions about Trump's comments and connect it to the policy."
The second video in the series exposed Democrat operatives hatching a corrupt mass voter fraud strategy step-by-step, with top officials discussing the plan and one key operative admitting that the Democrats have been rigging elections for fifty years.
This video also stars Cesar Vargas, the founder of the Dream Action Coalition. Vargas works with Cramer, in fact, "is really good friends with him." A "dreamer" born in Mexico, he is an undocumented alien and lawyer. He was the man the Clinton allies believed would be the one to pull off the voter fraud scheme.
"Yeah, for me I totally get it," he says on the video. "This is illegal, this is something that can be done."
[brid video="70680″ player="2077″ title="Rigging the Election Video III Creamer Confirms Hillary Clinton Was PERSONALLY Involved"]