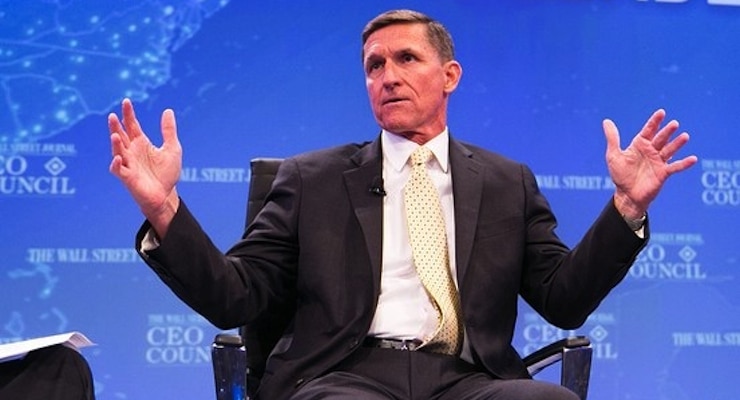 Lt. Gen. Michael Flynn said in an op-ed Monday for the New York Post he was fired as head of the Defense Intelligence Agency (DIA) under President Obama for the "stand I took on radical Islamism." Lt. Gen. Flynn, who is being vetted by Donald J. Trump for a potential vice presidential running mate, was fired in the winter of 2014 after three decades in the military.
The former DIA head said he asked the director of national intelligence James Clapper, the man who came to deliver the news, if he was forced into retirement because of his leadership of the agency. The answer was "no."
Two years ago, I was called into a meeting with the undersecretary of defense for intelligence and the director of national intelligence, and after some "niceties," I was told by the USDI that I was being let go from DIA. It was definitely an uncomfortable moment (I suspect more for them than me).

I asked the DNI (Gen. James Clapper) if my leadership of the agency was in question and he said it was not; had it been, he said, they would have relieved me on the spot.

I knew then it had more to do with the stand I took on radical Islamism and the expansion of al Qaeda and its associated movements. I felt the intel system was way too politicized, especially in the Defense Department. After being fired, I left the meeting thinking, "Here we are in the middle of a war, I had a significant amount of combat experience (nearly five years) against this determined enemy on the battlefield and served at senior levels, and here it was, the bureaucracy was letting me go." Amazing.
Lt. Gen. Flynn warned of an alliance of secular dictatorships–including North Korea, Cuba and Venezuela–who partner with Iran and other radical Muslim countries and organizations such as the Islamic State, al Qaeda and the Taliban.
"That's a formidable coalition, and nobody should be shocked to discover that we are losing the war. If our leaders were interested in winning, they would have to design a strategy to destroy this global enemy. But they don't see the global war. Instead, they timidly nibble around the edges of the battlefields from Africa to the Middle East, and act as if each fight, whether in Syria, Iraq, Nigeria, Libya or Afghanistan, can be peacefully resolved by diplomatic effort."
"This approach is doomed."
He went on to outline a comprehensive strategy that includes beating them on the battlefield and delegitimizing their ideology based on that defeat, the first step being one the U.S. had already taken and squandered.
"As we defeat them on the ground, we must clearly and forcefully attack their crazy doctrines. Defeat on battlefields does great damage to their claim to be acting as agents of divine will," he wrote. "After defeating al Qaeda in Iraq, we should have challenged the Islamic world and asked: 'How did we win? Did Allah change sides?'"