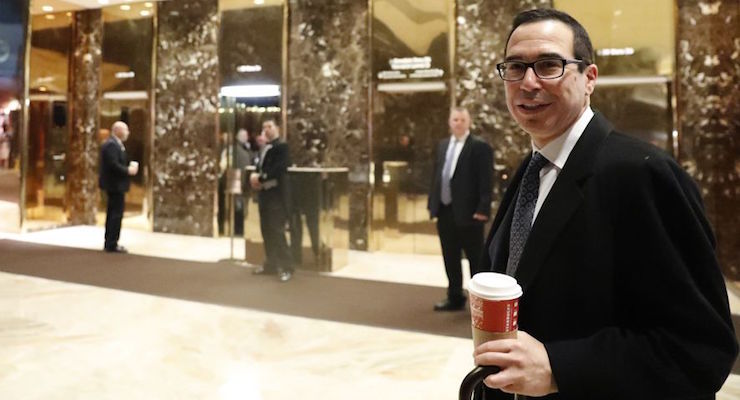 President-elect Donald J. Trump will nominate former Goldman Sachs banker Steven Mnuchin to be the Treasury Department Secretary.
Mr. Mnuchin, 53, made a career finding diamonds in the rough, or undervalued assets that he flips to gain huge profits. But while he is certainly qualified, he is President-elect Trump's first cabinet pick that doesn't necessarily fit the populist-conservative mold of what is turning out to be his administration.
His father, Robert Mnuchin, started at Goldman in 1957 and never left throughout his entire career. He was one of a few who pioneered block trading, which is a market-moving tactic that requires volume, or buying or selling of large numbers of shares at once. His other son Alan also worked at Goldman Sachs.
"He's a person of great integrity," the elder Mr. Mnuchin said of his son. "[We] expect he will do a good job in this very exciting and demanding position."
A graduate of Yale University, Mr. Mnuchin first joined Goldman Sachs in 1985 and worked in the fixed-income department. He rose through the ranks until he was given the responsibility of overseeing mortgage-, U.S. government-, money market- and municipal-backed securities. He eventually made partner in 1994 and later became the firm's chief information officer.
He made millions after Goldman Sachs converted into a publicly traded company in 1999, but left the firm in 2002 and founded Dune Capital Management, a hedge fund named after the dunes near his beach house in the Hamptons. He was also involved with the group that bought the failing California mortgage lender IndyMac from the government in 2009.
It was renamed OneWest after he became chairman of the company, which was ultimately sold to the nation's largest small-business lender (CIT) in 2015 for more than twice what the group paid for it.
Still, while the president-elect was railing against Wall Street and unfair tax policies, Mnuchin served as the national finance chairman for the campaign. It was a decision he made after President-elect Trump won the New York Republican primary and one his Wall Street buddies questioned vociferously. Big banks and finance sector titans almost unanimously backed Hillary Clinton for president.