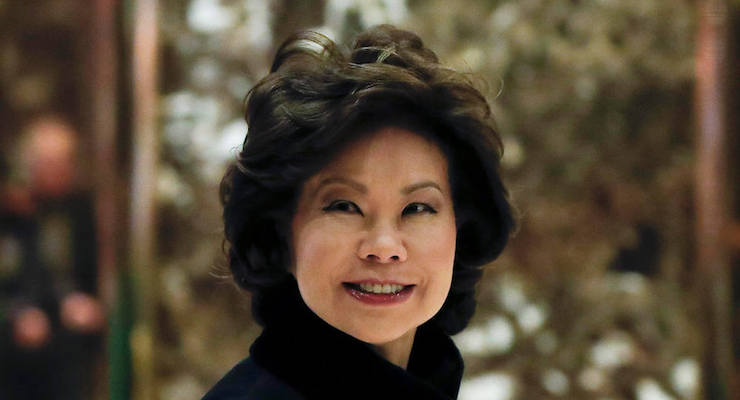 President-elect Donald J. Trump will nominate Elaine Chao, who served as Labor Secretary from 2001-09, for the post of Transportation Secretary. Chao, who is married to Senate Majority Leader Mitch McConnell, also served as Deputy Secretary of Transportation under President George H. W. Bush.
She was the longest-serving Secretary of Labor since Frances Perkins, who served from 1933 to 1945, under President Franklin D. Roosevelt.
Chao is the second cabinet position announcement on the day. President-elect Trump said he would nominated Rep. Tom Price, R-Ga. to head the Department of Health and Human Services (HHS). The selection of Rep. Tom Price to head HHS is an indication of where the Trump administration plans to take the nation on ObamaCare. Rep. Price, a staunch opponent of the president's signature health care law, not only introduced a detailed plan to repeal it but also to replace it.
With the Department of Transportation (DOT) appointment, President-elect Trump sends a very different message.
Biography
Chao was born in Taipei after her parents had fledto Taiwan from Shanghai. She received a B.A. in Economics from Mount Holyoke College in 1975 and an MBA from Harvard Business School in 1979, but also has received 36 honorary doctorates.
The most recent was a Doctor of Humane Letters from Georgetown University. Before entering politics, Chao was vice president for syndications at Bank of America Capital Markets Group in San Francisco, and an international banker at Citicorp in New York for four years. At Citicorp, she was granted a White House Fellowship in 1983 during the Reagan administration and, in 1986, became deputy administrator of the Maritime Administration in the U.S. Department of Transportation.
From 1988 to 1989, she served as chairwoman of the Federal Maritime Commission before being nominated for Deputy Secretary of Transportation. From 1991 to 1992, Chao served as the Director of the Peace Corps.
In each of these positions, she was the first Asian Pacific American to hold them.