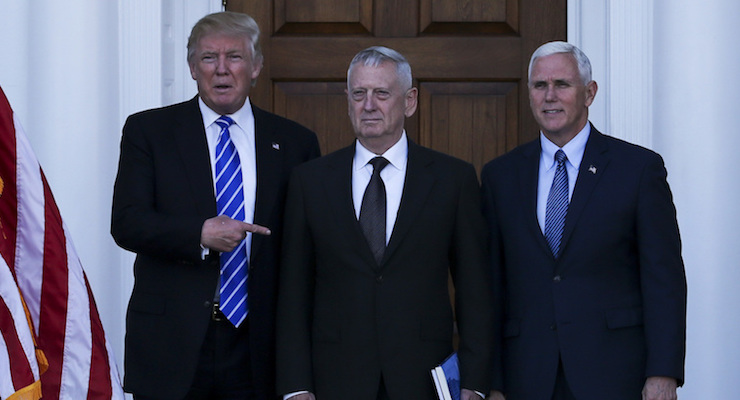 President-elect Donald J. Trump intends to nominate Gen. James Mattis, one of the most respected military figures for secretary of defense. "General James 'Mad Dog' Mattis, as he is known, is a modern day George Patton and a perfect attitudinal fit for the non-politically correct businessman from New York.
UPDATE: President-elect Donald J. Trump told the crowd at his first "victory tour" rally in Cincinnati, Ohio that he will nominate retired Marine Gen. James "Mad Dog" Mattis as secretary of defense, with a formal announcement to be made Monday.
Citing people familiar with the decision, the Washington Post said the announcement from the president-elect is expected to come next week. Gen. Mattis, 66, would need a waiver because Pentagon rules prevent those serving on active duty within the last seven years from serving in civilian.
Congress will also have to pass a law making an exception, which they have done just once when Gen. George C. Marshall was appointed to the post in 1950.
Gen. Mattis, born in Washington State, served in combat in Iraq and Afghanistan before he left the Marines in 2013. He has since been a think-tank scholar at Stanford's prestigious Hoover Institution and serves on the board of several private companies. He was and still remains a critic of President Barack Obama on Iran, which undoubtedly cost him his position as commander of U.S. Central Command.
Trump met with the general two weeks ago and offered nothing but praise for him the next day. He has another, lesser-known nickname–"warrior monk." Marines even have a Twitter hashtag for his well-known quotes–#Mattisisms.
The Trump campaign did not respond to a request for comment.
#Mattisisms for Your Reading Pleasure
"Be polite, be professional, but have a plan to kill everybody you meet." — Iraq, 2003
"No war is over until the enemy says it's over. We may think it over, we may declare it over, but in fact, the enemy gets a vote." — Defense News
"I'm going to plead with you, do not cross us. Because if you do, the survivors will write about what we do here for 10,000 years." — San Diego Union-Tribune