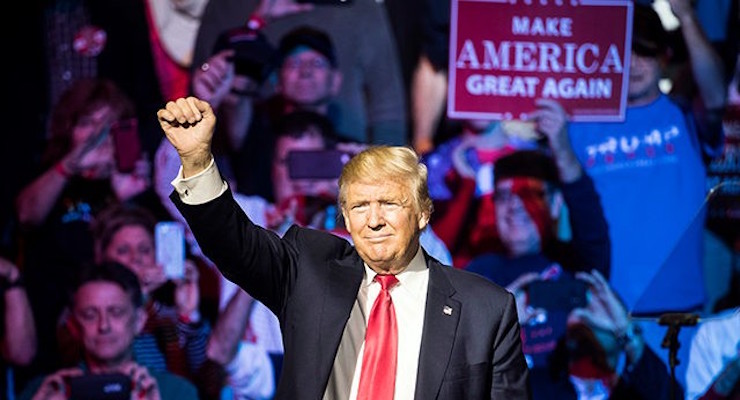 [brid video="82098″ player="2077″ title="Full Event PresidentElect Donald Trump Rally in Cincinnati OH 12116″]
President-elect Donald J. Trump kicked off his "Thank You" tour in Cincinnati, Ohio striking an optimistic tone and confirmed a big cabinet appointment.
"This campaign proved that the old ways of doing things are over and anything is possible," President-elect Trump said, "Now is not the time to downsize our dreams."
President-elect Trump told a jubilant crowd that he will nominate retired Marine General James "Mad Dog" Mattis as secretary of defense, with a formal announcement to be made Monday. The next president met with the general two weeks ago and offered nothing but praise for him the next day.
"He's the closest thing to General George Patton we got," he said.
?WATCH: Trump announces James "MAD DOG" Mattis as pick for Secretary of Defense during #Cincinnati "Thank You" rally! pic.twitter.com/SoTxTjxMMX

— Tennessee GOP (@TEN_GOP) December 2, 2016
In typical Trump fashion, he took a stab at the media to intentionally underscore a narrative. He revisited how the pollsters and pundits said he was a long-shot candidate and that he could not win, let alone in the region of the country that inevitably put him over the top.
"Remember when they said we can't break the blue wall?" President-elect Trump asked the crowd. "We didn't break it. We shattered that sucker!"
"We are going to seek an inclusive society where people love each other, where they love each other, where they dream big and where they think anything was possible," he said."
The tour comes as Carrier and the president-elect formally announced a deal to keep roughly 1,000 jobs in the United States, marking the fulfillment of a major campaign promise. Carrier, which is owned by United Technologies Corporation (NYSE:UTX), manufactures products offering high-tech heating, air-conditioning & refrigeration solutions for residential, commercial, retail, transport & foodservice.
They had announced in February that they planned to move a plant and more than a thousand jobs to Mexico, but became the second political and economic win for Mr. Trump. Ford Motor Company (NYSE:F) also announced they would not move forward on plans to ship a manufacturing plant and those jobs to Mexico.