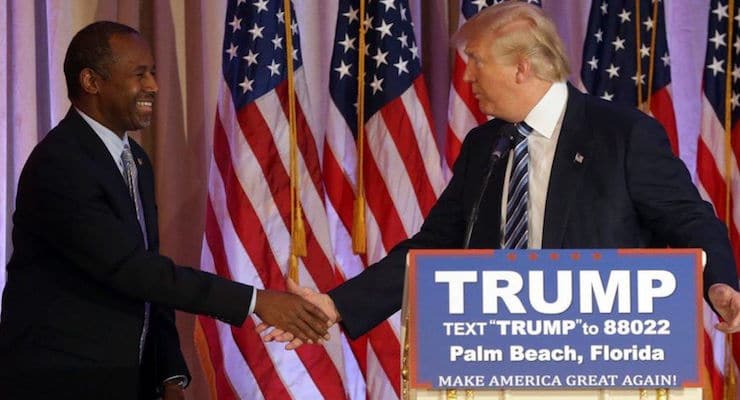 President-elect Donald J. Trump announced his intentions to nominate Dr. Ben Carson as secretary of the Department of Housing and Urban Development (HUD). The decision to pick Dr. Carson, a former children's neurosurgeon and presidential candidate, is a signal that the new Trump administration was serious about inner-city reforms he proposed during the campaign season.
In a statement, President-elect Trump says he's "thrilled to nominate" Dr. Carson, adding he "has a brilliant mind and is passionate about strengthening communities and families within those communities."
"Ben shares my optimism about the future of our country and is part of ensuring that this is a presidency representing all Americans," he said.
From being born in a poor neighborhood in Detroit, Michigan, from being portrayed by Cuba Gooding Jr. in a movie about his life, Dr. Carson has an extraordinary story. Raised largely by a single mother who worked two or three jobs at a time, usually as a domestic servant, he would eventually graduate from Yale University and the University of Michigan Medical School.
When he when he was eight years-old, his father abandoned him, his brother and mother.
Carson was thrusted into the national spotlight after the 2013 National Prayer Breakfast, during which he criticized President Barack Obama's signature healthcare law when he was seated about 3 feet away from him.
On May 4, 2015, Dr. Carson announced he was running for the Republican nomination at a rally in his hometown of Detroit. For a brief period, he rose in the polls to become one of Mr. Trump's chief rivals. In March, he endorsed the Republican frontrunner in a heated race that came down to Texas Sen. Ted Cruz.
"Dr. Ben Carson is a brilliant man with a great work ethic and a deep desire to help his fellow Americans," former House Speaker Newt Gingrich said in a statement on social media, adding the doctor was "an outstanding choice for Trump."
While initially thought to be in contention for the Veterans Affairs, Health and Human Services or Surgeon General, Dr. Carson wrote and spoke passionately about the Department of Housing and Urban Development and its impact on inner cities.
"After serious discussions with the Trump transition team, I feel that I can make a significant contribution particularly to making our inner cities great for everyone," Dr. Carson wrote on Facebook roughly two weeks ago. "We have much work to do in strengthening every aspect of our nation and ensuring that both our physical infrastructure and our spiritual infrastructure is solid. An announcement is forthcoming about my role in helping to make America great again."