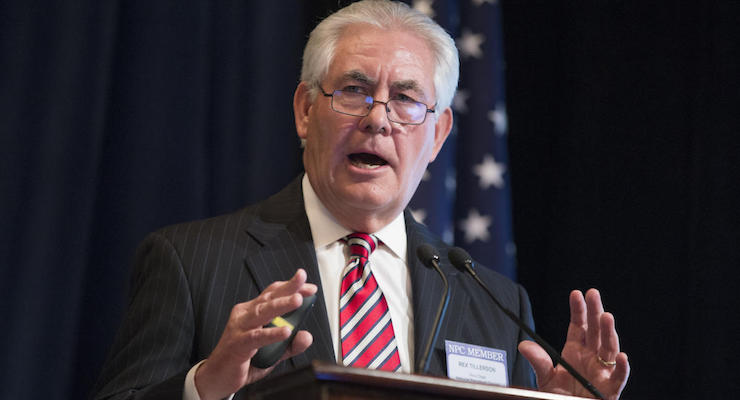 Multiple sources and reports claim President-elect Donald J. Trump will nominate Exxon Mobil CEO Rex Tillerson for secretary of state. The official announcement is expected to come in the next few days.
The announcement comes a few days after former New York City Mayor Rudy Giuliani said he withdrew his name from consideration for state or any other post. The president-elect during an interview on Fox News Sunday praised Mr. Tillerson.
"He's more than just a businessman," President-elect Trump said. "He's a world-class player."
But the selection of Mr. Tillerson is also a signal that the new president intends to make good on his realist foreign policy promises on the campaign trail, including a more cooperative relationship with Russia. He is very familiar with Russian President Vladimir Putin and managed to increase the company's market share in Russia at a time competitors faced bureaucratic and regulatory obstacles.
In 2013, Mr. Putin bestowed the Order of Friendship on Mr. Tillerson, a native of Wichita Falls, Texas. Mr. Tillerson began at Exxon Mobil as a production engineer out of the University of Texas at Austin in 1975 and went on to succeed former CEO Lee Raymond. Under his leadership, Exxon Mobil's profits helped to make it the most valuable publicly traded company in the world.
Mr. Tillerson, who made $27.3 million last year, was going to retire in March at age 65, which was mandatory under the company's retirement policy. According to the most recent proxy statement on file at the Securities and Exchange Commission (SEC), he has accumulated around $160 million in Exxon stock along with $149 million of unvested stock options.
His activities are certainly not confined to Big Oil. Mr. Tillerson served as director of the United Negro College Fund and the National President of the Boy Scouts of America. The former Eagle Scout also served as chairman of the American Petroleum Institute. He first popped up on President-elect Trump's radar in November after conversations with former Secretary of Defense Robert Gates and Secretary of State Condoleezza Rice, both of whom said they would highly recommend Mr. Tillerson for the post.