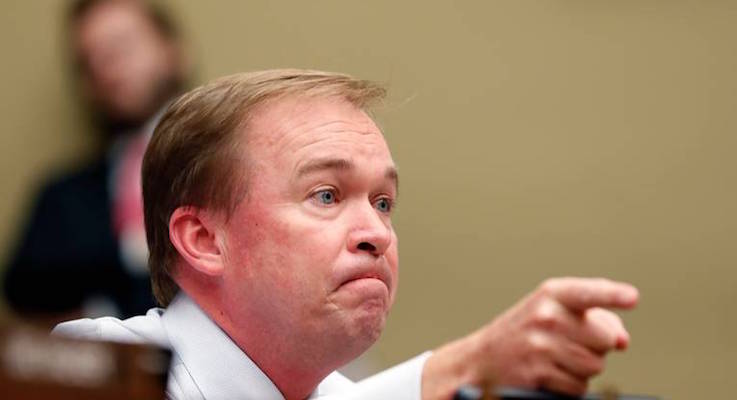 (New York, NY) —  President-elect Donald J. Trump Saturday nominated Rep. Mick Mulvaney, R-S.C., for Director of the Office of Management and Budget (OMB). Rep. Mulvaney has a reputation in Congress for being a budget hawk, co-authoring the Cut, Cap, and Balance Act, which aimed to slow the growth of current spending and cap future spending in the federal budget.
"We are going to do great things for the American people with Mick Mulvaney leading the Office of Management and Budget," said President-elect Trump. "Right now we are nearly $20 trillion in debt, but Mick is a very high-energy leader with deep convictions for how to responsibly manage our nation's finances and save our country from drowning in red ink. With Mick at the head of OMB, my administration is going to make smart choices about America's budget, bring new accountability to our federal government, and renew the American taxpayer's trust in how their money is spent."
Rep. Mulvaney, a Honor Scholar graduate of the Georgetown University, attended law school at the University of North Carolina at Chapel Hill. He went on to Harvard Business School and completed the OPM program in 2006. He began his own firm in South Carolina before running for public office.
"It is a great honor to be appointed Director of the Office of Management and Budget," said Rep. Mulvaney. "The Trump administration will restore budgetary and fiscal sanity back in Washington after eight years of an out-of-control, tax and spend financial agenda, and will work with Congress to create policies that will be friendly to American workers and businesses. Each day, families across our nation make disciplined choices about how to spend their hard earned money, and the federal government should exercise the same discretion that hardworking Americans do every day."
Rep. Mulvaney began his political career after he was elected to the South Carolina House of Representatives in 2006, becoming the first Republican ever to win that seat in his district. He currently serves on the House Financial Services Committee and the House Oversight and Government Reform Committee.
The Club for Growth, a fiscally conservative free market advocacy group that spent millions of dollars opposing President-elect Trump during the Republican nomination, is praising the selection as a "major victory for tax payers."
"The days of the White House producing massive, ridiculous budgets that are dead on arrival on Capitol Hill are over," said Club for Growth president David McIntosh. "Mick Mulvaney is a leader among economic conservatives, and the Trump Administration's selection is a major victory for taxpayers and for all who want to see the downsizing of the federal government."
The Club releases annual scores for lawmakers on fiscal sanity and economic freedom. Since Mr. Mulvaney was first elected in 2010, he has never scored less than 93% on the Club for Growth's annual scorecard and has a lifetime average of 96. It's earned him the support of the constituents in his district. He won re-election to secure a third term by defeating Democrat Tom Adams, a Fort Mill Town Council member, by a whopping 59%–41%.
"He has walked the talk of economic conservatism, and will bring that same steadfastness to the White House," Mr. McIntosh said.