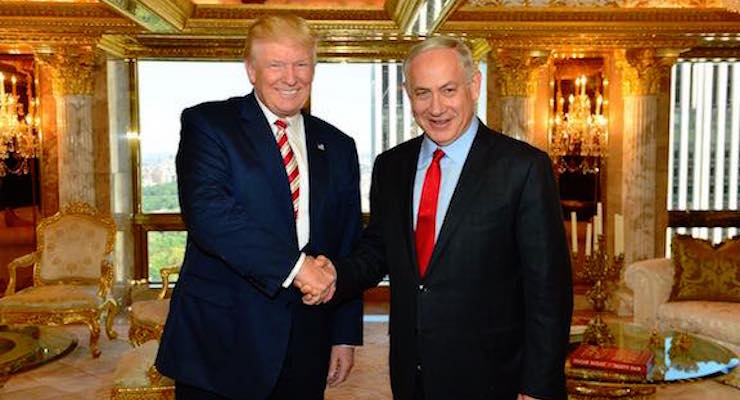 Ahead of a defiant speech by outgoing Secretary of State John Kerry, President-elect Donald J. Trump in a series of tweets told Israel to "stay strong," adding he will not "continue to let Israel be treated with such total disdain and disrespect."
President-elect Trump, thank you for your warm friendship and your clear-cut support for Israel! ????@IvankaTrump @DonaldJTrumpJr https://t.co/lURPimG0wS

— Benjamin Netanyahu (@netanyahu) December 28, 2016
We cannot continue to let Israel be treated with such total disdain and disrespect. They used to have a great friend in the U.S., but…….

— Donald J. Trump (@realDonaldTrump) December 28, 2016
not anymore. The beginning of the end was the horrible Iran deal, and now this (U.N.)! Stay strong Israel, January 20th is fast approaching!

— Donald J. Trump (@realDonaldTrump) December 28, 2016
Sec. Kerry's comments were made during a farewell speech to the State Department and after the U.S. decision to allow the U.N. Security Council to condemn Israeli settlements last week. Israeli officials described the move as a betrayal, but Sec. Kerry claimed that the U.S. was acting in the best interest of the Israeli nation. He went on to tell Israelis that–under the one state solution–Israel can either be Jewish or democratic, a statement that received widespread criticism minutes after he uttered it.
"There are a similar number of Jews and Palestinians living between the Jordan River and Mediterranean Sea. They have a choice. They can choose to live together in one state or they can separate into two states," he said. "But here is a fundamental reality, if the choice is one state, Israel can either be Jewish or democratic, it cannot be both."
He argued a two-state solution remains the only way to a "just and lasting peace," warning "that future is now in jeopardy."
Mr. Kerry's speech was lopsided toward the issue of Israeli settlements in the West Bank and ignored the reality that the Palestinians refuse to even accept the right of the state of Israel to exist. While certain elements of the Palestinian Authority publicly claim they support a two-state solution, decades of history cast doubt on the claim. The Palestinian people are now ruled by the political wing of Hamas, a terrorist organization deemed to be one by the very agency Mr. Kerry runs–U.S. State Department.