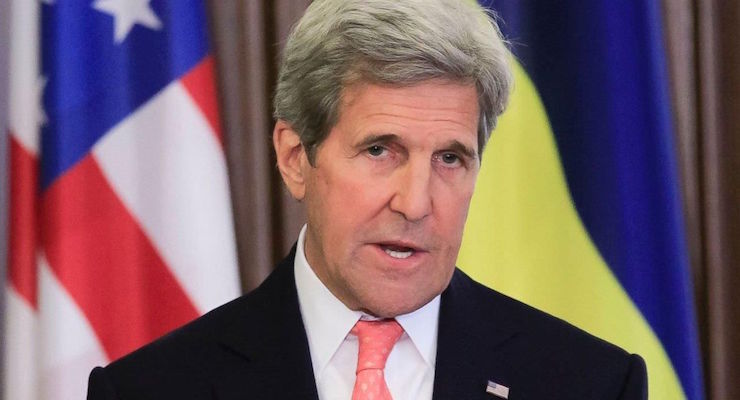 A defiant Secretary of State John Kerry defended the U.S. decision to allow the U.N. Security Council to condemn Israeli settlements last week. The outgoing secretary of state's comments come as U.S.-Israeli relations reach their lowest point in decades, a trend that began almost immediately after President Barack Obama took office.
Numerous times Sec. Kerry referred to the Israeli settlements in the West Bank a "permanent occupation" and said the Obama administration abstained in the interest of a "just and lasting" peace.
"Friends need to tell each other the hard truths, and friendships require mutual respect," Sec. Kerry said, adding the U.S. "did in fact vote in accordance with our values."
Israeli officials described the move as a betrayal, but Sec. Kerry claimed that the U.S. was acting in the best interest of the Israeli nation. He argued a two-state solution remains the only way to a "just and lasting peace," warning "that future is now in jeopardy."
Mr. Kerry went on to tell Israelis that–under a one state solution–Israel can either be Jewish or democratic, a statement that received widespread criticism minutes after he uttered it.
"There are a similar number of Jews and Palestinians living between the Jordan River and Mediterranean Sea. They have a choice. They can choose to live together in one state or they can separate into two states," he said. "But here is a fundamental reality, if the choice is one state, Israel can either be Jewish or democratic, it cannot be both."
Prime Minister Benjamin Netanyahu described the U.S. decision an "ambush," and his government has accused the U.S. of orchestrating the vote on the resolution condemning the settlements, a charge People's Pundit Daily has confirmed.
After years of violence, including rocket attacks, terror attacks and kidnappings via an elaborate network of underground tunnels, the Israeli government now views the settlements as a national security issue. At this point, Prime Minister Netanyahu, whom Sec. Kerry called the leader of the most right-wing government ever, is counting the days before President-elect Donald J. Trump is sworn into office.
President-elect Trump, thank you for your warm friendship and your clear-cut support for Israel! ????@IvankaTrump @DonaldJTrumpJr https://t.co/lURPimG0wS

— Benjamin Netanyahu (@netanyahu) December 28, 2016
We cannot continue to let Israel be treated with such total disdain and disrespect. They used to have a great friend in the U.S., but…….

— Donald J. Trump (@realDonaldTrump) December 28, 2016
not anymore. The beginning of the end was the horrible Iran deal, and now this (U.N.)! Stay strong Israel, January 20th is fast approaching!

— Donald J. Trump (@realDonaldTrump) December 28, 2016
The prime minister told Israel Army Radio that "Kerry's intention is to chain President-elect Trump." Ironically, that government was elected despite the U.S. president's attempt to meddle in Israeli elections in order to defeat Prime Minister Netanyahu.
In Jan. 2015, a bipartisan Senate committee had been established to investigate the Obama administration's use of several taxpayer-funded State Department grants to support OneVoice, a U.S.-based leftist activist organization started by five Democrats.
OneVoice received two taxpayer-funded grants from the U.S. State Department in the prior year totaling $200,000 and, as PPD previously reported, joined forces with the group V15 – who has a reputed mission of "anyone but Bibi" – to defeat Netanyahu.
The content of Sec. Kerry's speech, which was provided to the Israeli government beforehand, has already proved to have unintended consequences. Ahead of the speech, the city planning commission in Jerusalem approved a plan to construct a three-story building for Jewish settlers in the predominantly Palestinian neighborhood of Silwan in East Jerusalem. The approval came after earlier vote was reportedly canceled at Prime Minister Netanyahu's request.