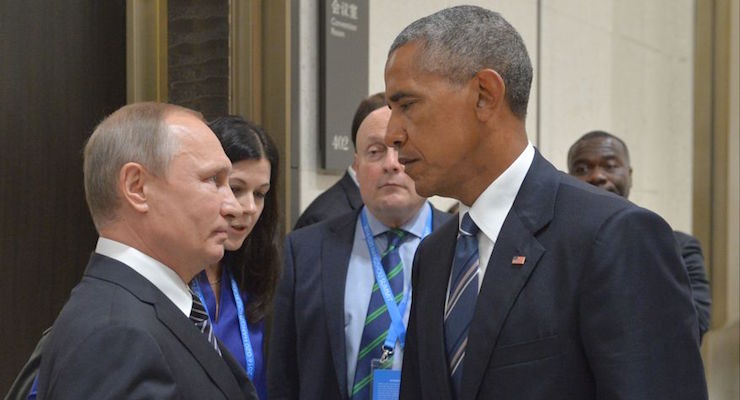 President Barack Obama Thursday expelled 35 Russian intelligence officials and sanctioned two agencies who he says were involved in hacking Democratic groups, Reuters reported. Mr. Obama, who in early Nov. first took the position there was no evidence indicating Russia influenced the 2016 presidential election, added the order to a growing list of unprecedented moves taken in the final days of a presidency.
It marks a new low in U.S.-Russian relations and Moscow is now considering retaliation. The relationship between Mr. Obama and Russian President Vladimir Putin deteriorated from "Tell Vladimir I'll have more flexibility after the election," to this. It began to the downslide after what is at least publicly seen as differences on Ukraine and Syria.
"These actions follow repeated private and public warnings that we have issued to the Russian government, and are a necessary and appropriate response to efforts to harm U.S. interests in violation of established international norms of behavior," President Obama said in a statement from vacation in Hawaii.
It was not immediately clear whether President-elect Donald J. Trump, who has repeatedly expressed a willingness to work with President Putin, would seek to roll back the measures once he takes office on Jan. 20. If so, it would mark the second relationship Mr. Obama has sought to stress this week that the new president will have to repair, following a move allowing the U.N. to condemn Israel that was met with widespread and bipartisan criticism.
Mr. Obama has been under pressure from within both political parties to respond to the alleged cyber attacks, which included emails hacked from corrupt Democratic National Committee (DNC) and Clinton campaign operatives that the media attempted to bury during the campaign for the Nov. 8 presidential election. Thus far, none of the parties pointing the finger at Russia have put forward evidence to prove the allegation and WikiLeaks founder Julian Assange has indicated the source of the leaks was an inside job.
At one point, Mr. Assange seemed to suggest that Seth Rich, a DNC staffer murdered by a shot to the back in D.C., had been the source. The official police report claimed Rich was the victim of a robbery, though the perpetrators failed to take any of his personal items, i.e. wallet, phone etc.
The cybersecurity firm hired by the DNC to investigate the hack of its emails earlier this year claims the hacking came from the Fancy Bear group, which is believed to be affiliated with the GRU. However, the U.S. government has stopped short of confirming these specific findings even as they level the charges against Russia.
The Russian foreign ministry said ahead of the announcement on Thursday the sanctions were counter-productive and would do serious harm to U.S.-Russian relations. Moscow denies the hacking allegation and says they are now considering a response.
"We think that such steps by a U.S. administration that has three weeks left to work are aimed at two things: to further harm Russian-American ties, which are at a low point as it is, as well as, obviously, to deal a blow to the foreign policy plans of the incoming administration of the president-elect," Dmitry Peskov, a spokesman for President Putin told reporters in Moscow.
President Obama sanctioned two Russian intelligence agencies, the GRU and the FSB, four GRU officers and three companies "that provided material support to the GRU's cyber operations."
He also said the State Department declared as "persona non grata" aimed at 35 Russian intelligence operatives and is closing two Russian compounds in New York and Maryland that were used by Russian personnel for "intelligence-related purposes." The State Department originally said the 35 Russians expelled were diplomats.
Sergei Kislyak will not be one of those expelled, though U.S. officials refused to provide names for the Russian diplomats who would be targeted. Now, the Russians have 72 hours to leave the U.S., while access to the two compounds will be denied to all Russian officials as of noon on Friday, the senior U.S. official added.
"These actions were taken to respond to Russian harassment of American diplomats and actions by the diplomats that we have assessed to be not consistent with diplomatic practice," the official said.
The U.S., specifically the State Department, has long claimed Russian security agents and traffic police have harassed U.S. diplomats operating in Moscow. U.S. Secretary of State John Kerry has raised the issue with Mr. Putin and Foreign Minister Sergei Lavrov.