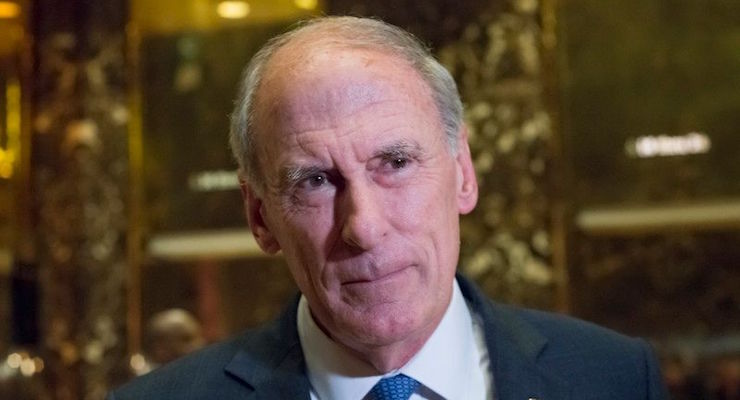 President-elect Donald J. Trump announced that he intends to nominate former Indiana Senator Dan Coats as the Director of National Intelligence. The Office of the Director of National Intelligence was established following the September 11, 2001 terror attacks to serve as the facilitator of information sharing in the U.S. Intelligence Community.
"I'm very confident that Senator Dan Coats is the right choice to serve as Director of National Intelligence," said President-elect Trump. "Dan has clearly demonstrated the deep subject matter expertise and sound judgment required to lead our intelligence community. If confirmed as Director of National Intelligence, he will provide unwavering leadership that the entire intelligence community can respect, and will spearhead my administration's ceaseless vigilance against those who seek to do us harm."
The appointment comes a few days after Wall Street Journal reported the incoming Trump Administration intends to overhaul the U.S. intelligence community, a report which the transition team called "overblown." However, President-elect Trump and his advisors are concerned with the politicization of certain agencies under the Obama Administration.
Sen. Coats, a Michigan native, served in the U.S. Army from 1966 to 1968 and the U.S. House of Representatives from 1989–1999, before being appointed to fill the U.S. Senate seat vacated by Dan Quayle following his nomination and election as Vice President of the United States in 1988. He went on to win the 1990 special election and served out the remainder of Vice President Quayle's term, as well as the 1992 election to serve a full six-year term.
He did not seek reelection in 1998 and was succeeded by Democrat Evan Bayh. Before serving again in the U.S. Senate from 2011–2017, Sen. Coats served as U.S. Ambassador to Germany from 2001 to 2005. In 2010, he announced he would run for his old seat, but incumbent Sen. Bayh saw the handwriting on the wall decided not to run for another term.
Sen. Coats defeated Democratic challenger Brad Ellsworth by a large 15-point margin to win back his seat. In the upper chamber, he served on the Senate Select Committee on Intelligence and on the Senate Armed Services Committee.
"It is an honor to be nominated as Director of National Intelligence," said Sen. Coats. "A robust and responsible intelligence infrastructure is essential to our homeland security, and if confirmed I will ensure our national security decision-makers have every piece of information they need to protect the American people from the threats facing our nation. There is no higher priority than keeping America safe, and I will utilize every tool at my disposal to make that happen."