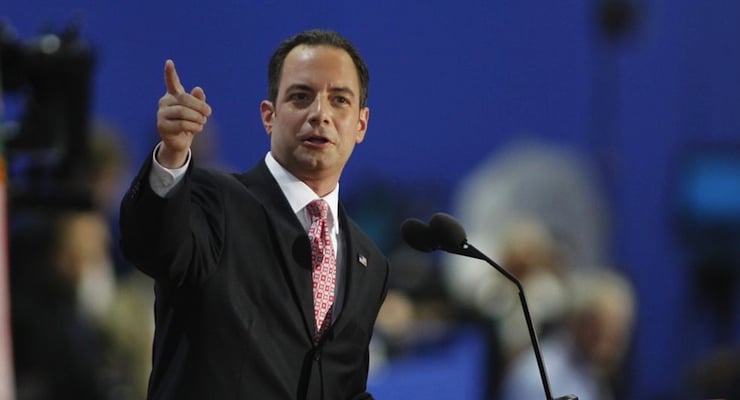 [brid video="104101″ player="2077″ title="Reince Priebus on Fox News Sunday 'Sitting Duck' DNC 'Lacked Defenses Lacked Training'"]
Reince Priebus, the incoming chief of staff for President-elect Donald Trump, said on Fox News Sunday that Democrats were unprepared and are to blame for the hacks. Priebus, who is the outgoing chairman of the Republican National Committee (RNC), also said President-elect Trump "accepts the findings" of the U.S. intelligence report that concluded Russian President Vladimir Putin was trying to meddle the 2016 presidential election.
"I think he accepts the finding," Chairman Priebus said. "He's not denying entities in Russia are behind these particular hackings."
Still, he pointed out that the Democratic National Committee (DNC) was warned about their lack of cyber security by the Federal Bureau of Investigation (FBI).
"We have a DNC as a sitting duck . . . It matters," he said. "They lacked defenses. They lacked training. They allowed foreign governments into their system."
Unlike the RNC, which invited the FBI in and took direction from national security experts, officials at the DNC did nothing. Contrary to reports by The Washington Post and New York Times, the FBI conducted a probe into a potential breach at the RNC following the initial DNC hack last summer. The Bureau was "unaware of any successful RNC hack" after more than three weeks of investigations.
President-elect Trump has expressed skepticism regarding the findings of the intel report and has been even more dismissive of the idea the hacks influenced the outcome of the November election, in which he defeated Democrat Hillary Clinton. He has pointed out, and rightly so, that the crowing over the hacks were nothing more than an effort to delegitimize his victory.
The declassified intelligence report released Friday backs up that notion. It revealed that foreign governments, including China, sought to influence the U.S. presidential election in 2008. Since President Barack Obama has been president, more than a dozen government agencies had been hacked and the administration took no action in retaliation or to beef up cyber defenses.
Priebus also pointed out during the interview that Russia and China have tried to influence elections outside their borders for "many, many years." Of note, he also said President Trump "may very well" take action against Russia, though he ran and won on his promise to try to improve relations with Moscow.
Just one day after the briefing with intel officials, he said in a string of tweets that only "stupid people" or "fools" wouldn't want to improve U.S.-Russian relations.
Having a good relationship with Russia is a good thing, not a bad thing. Only "stupid" people, or fools, would think that it is bad! We…..

— Donald J. Trump (@realDonaldTrump) January 7, 2017
"… have enough problems around the world without yet another one. When I am president, Russia will respect us far … more than they do now and both countries will, perhaps, work together to solve some of the many great and pressing problems and issues of the WORLD!," he tweeted.