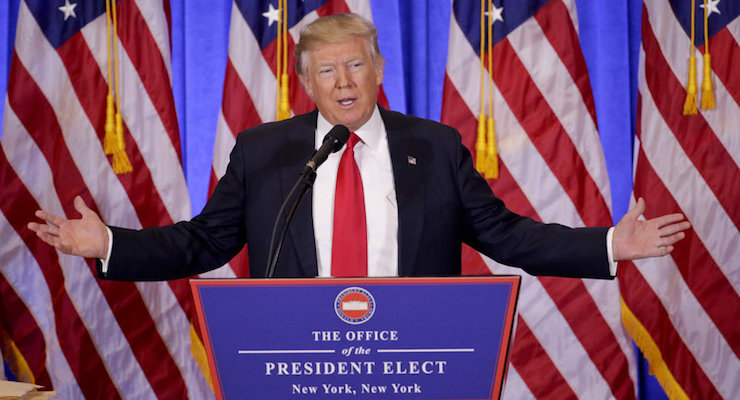 Donald J. Trump spoke about a wide range of issues during a press conference in New York City Wednesday, the first in 167 days and since he became president-elect.
Sean Spicer, formerly the number two at the Republican National Committee (RNC) and next White House Press Secretary, started the press conference by slamming two news outlets that ran an unverified, unsubstantiated report detailing salacious allegations that are being widely condemned by mediates.
BuzzFeed and CNN were in the new administration's crosshairs after CNN teed up BuzzFeed on a report released Tuesday about documents alleging "Russian operatives claim to have compromising personal and financial information about Mr. Trump." However, numerous reporters have come forward condemning the report as fake and unverifiable. In fact, multiple claims in the report are now categorically debunked.
"It is frankly outrageous and highly irresponsible for a left-wing blog that was openly hostile to the president-elect's campaign to drop highly salacious and flat out false information on the Internet just days before he takes the oath of office," Mr. Spicer said. "According to Buzzfeed's own editor, there are some serious reasons to doubt the allegations in the report…. The fact that BuzzFeed and CNN made the decision to run with this unsubstantiated claim is a sad and pathetic attempt to get clicks. The report is not an intelligence report, plain and simple."
Mr. Spicer also noted that the executive editor of the New York Times, along with others, have vehemently dismissed the report as "totally unsubstantiated."
After the incoming White House press secretary turned over the microphone to the president-elect, the New York businessman-turned-president confirmed David Shulkin will be nominated for Secretary of Veterans Affairs (VA). Mr. Shulkin currently serves as Under Secretary for Health for the Veterans Affairs and was nominated by President Barack Obama. Being that the position already required him to be confirmed by the U.S. Senate, there will be zero to little political capital spent on his confirmation now.
With the BuzzFeed document casting a shadow over the press conference, President-elect Trump set out to unequivocally deny having any dealings with Russia that may give the hostile nation leverage over his presidency.
"I have no dealings in Russia," he said. "I have no deals in Russia, I have no deals that could happen in Russia because we have stayed away, and I have no loans with Russia."
He also announced that he will turn over complete control of the Trump Organization to his sons Donald Trump Jr. and Eric Trump, though he was not required to do so by law. Ivanka Trump, his daughter, will also have no role in the organization that spans multiple companies and countries after her husband Jared Kushner was appointed to a senior advisory role in the White House.
Ahead of the press conference, he enlisted the help of legal and financial council to dump any and all assets that could be easily liquidated.
"The Trump Organization will not enter into any new overseas deals while Trump is president and will only undertake domestic projects after a company ethics adviser has approved them," said President-elect Trump's legal advisor Sheri Dillon.
Ms. Dillon, an attorney at Morgan Lewis, said he will donate all of Trump Hotel's profits generated by foreign governments to the U.S. Treasury. Dillon noted that the Emoluments Clause of the Constitution did not apply to the hotel stays, though some experts have disagreed with that interpretation. However, it is clear from the law that he is not legally required to take any of these steps.
Ethics experts on the left had been calling for Mr. Trump to completely divest his assets, but Ms. Dillon argued that being elected president should not force an individual to dismantle a company they spent their entire lives building. Ultimately, he said he decided not to take that route because it was not realistic and would have created more possible conflicts.
But the biggest takeaway from the press conference is the attention it has generated. As of now, no one is talking about the outgoing president's farewell address the night before. In what was meant to be a final attempt to contribute to his presidential record, President Barack Obama gave his speech in his adopted hometown of Chicago.
What did he say during his swan song? You'll have to watch it on People's Pundit Daily because you won't hear about it on the nightly news tonight.