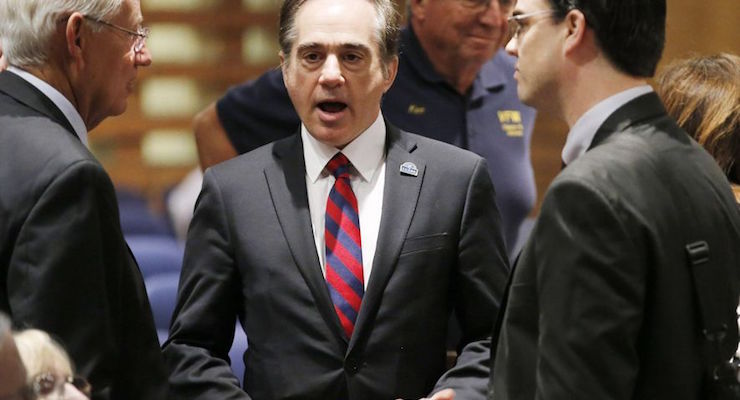 BREAKING: President-elect Donald J. Trump confirmed at a news conference in New York City he chose David Shulkin for Secretary of Veterans Affairs (VA). Dr. Shulkin currently serves as Under Secretary for Health for the Veterans Affairs after he was nominated by President Barack Obama.
Being that the position already required him to be confirmed by the U.S. Senate, there will be zero to little political capital spent on his confirmation.
"I have no doubt Dr. Shulkin will be able to lead the turnaround our Department of Veterans Affairs needs. His sole mandate will be to serve our veterans and restore the level of care we owe to our brave men and women in the military," President-elect Trump said in a statement. "Sadly our great veterans have not gotten the level of care they deserve, but Dr. Shulkin has the experience and the vision to ensure we will meet the healthcare needs of every veteran."
The nomination marks the second holdover chosen by President-elect Trump from those serving in the outgoing Obama administration. The New York businessman-turned-president interviewed more people for the Cabinet post than any other, all of which equal in stature have been filled already. Ultimately, knowing reforming the VA was a key campaign promise made during the 2016 presidential election, he decided Dr. Shulkin was the best man for the job.
"Dr. Shulkin is an incredibly gifted doctor who is using his elite talents for medicine to care for our heroes, and Americans can have faith he will get the job done right," he added.
As the new head of the VA, Dr. Shulkin will have oversight over the nation's largest integrated healthcare system, one that employs over 300,000 people and serve 8.76 million veterans every year at more than 1,700 locations. It's a daunting task, particularly with as the agency is plagued with one scandal after another. But his experience in the public sector is rivaled by his resume in the private sector.
He founded and served as the Chairman and CEO of DoctorQuality, one of the first ever consumer-oriented sources of information for quality and safety in healthcare. Dr. Shulkin served in chief executive roles at Morristown Medical Center as President, Goryeb Children's Hospital, Atlantic Rehabilitation Institute and the Atlantic Health System Accountable Care Organization, as well as President and CEO of Beth Israel Medical Center in New York City.
"It is my honor to serve as President-elect Trump's Secretary of Veterans Affairs," said Dr. David Shulkin. "President-elect Trump's commitment to caring for our veterans is unquestionable, and he is eager to support the best practices for care and provide our Veterans Affairs' teams with the resources they need to improve health outcomes. We are both eager to begin reforming the areas in our Veterans Affairs system that need critical attention, and do it in a swift, thoughtful and responsible way."