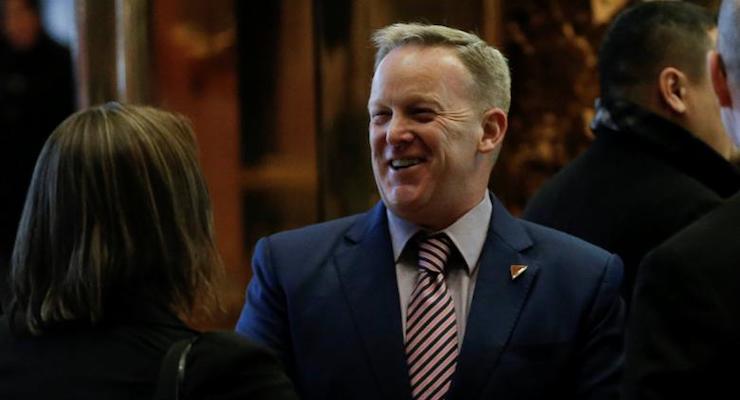 Incoming White House Press Secretary Sean Spicer held his first press conference on Thursday and outlined what we can expect on and after Inauguration Day. Here are five big takeaways from that
TRUMP AUGURAL ADDRESS
Mr. Spicer said the new president's inaugural address will "be a very personal" speech that is more agenda-driven and less ideological. That's a break from President Barack Obama, who set the tone of "ideology first" on just about every issue on just about every occasion.
CABINET CONFIRMATIONS
Republicans this week will move to push for confirmation votes on President-elect Trump's Cabinet picks, which Democrats are hoping to slow-walk after Republicans helped to confirm numerous nominees for Mr. Obama, many of which by simple voice vote. Mr. Spicer made clear they will also urge senators to put aside politics and move forward with the confirmation votes.
"No one is disputing their qualifications," he said, adding that the only motives were politics and obstruction.
50 OBAMA ADMINISTRATION HOLDOVERS
The Trump Administration will keep 50 national security advisors from the Obama team, including Special Presidential Envoy for the Global Coalition to Counter ISIL Brett McGurk, Deputy Defense Secretary Robert O. Work and Acting Under Secretary for Terrorism and Financial Intelligence at the United States Department of the Treasury Adam Szubin.
The holdovers are mostly officials who have been dealing with the Islamic State (ISIS). Today, the administration hit a key ISIS target in a stronghold in Libya, where Mr. Obama allowed Hillary Clinton to convince him to intervene and topple Colonel Muammar Gaddafi. It inevitably descended into a terror haven.
EXECUTIVE ORDERS
"The president-elect is continuing to get briefed on some of the orders that he wants to do and the sequencing thereof," Mr. Spicer told reporters, adding that President-elect Trump "is committed to not just day one, but day two, day three, of enacting an agenda of real change. And I think that you're going to see that in the days and weeks to come."
Mr. Spicer said the incoming administration is working to ensure executive orders are issued or revoked in the correct order. However, he also told reporters they can expect swift action. While the official first work day for the Trump Administration will be Monday, due to celebratory activities marking his inauguration, Mr. Spicer said executive action can be anticipated as early as Friday afternoon.
SHORT CELEBRATIONS BEFORE GETTING TO WORK
"You'll see activity on both tomorrow, over the weekend, and then Monday, Tuesday, Wednesday," he said. "It's going to be a robust not just day one but I think first week, first month, and probably first term."
Most presidents hold at least 5 inaugural parties and begin work on the Monday after the oath of office. However, President-elect Trump will only hold two parties, jokingly stating that he doesn't need one bash after another.