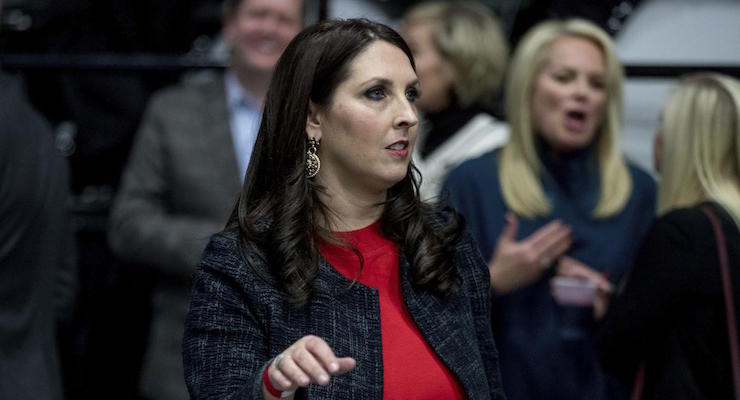 Ronna Romney McDaniel, the former head of the Michigan GOP, has been chosen to lead the Republican National Committee (RNC), making her the first women to lead it in 40 years. Ms. McDaniel, 43, was nominated to take over for outgoing RNC Chair Reince Priebus, who served in the role for six years before he was nominated to serve as White House chief of staff.
"I am a mom from Michigan," she said. "I am an outsider. And I am going to do everything I can to make sure Donald Trump and Republicans everywhere are successful."
Mr. Priebus gave his successor a strong endorsement in his final address to the committee, calling her "the right woman to lead the RNC" and touted her role in turning Michigan red in the election.
Ms. McDaniel, the niece of 2012 GOP nominee Mitt Romney, was an early supporter of President-elect Trump even as her uncle was arguably his fiercest critic. With McDaniel the head of the Michigan GOP, the New York businessman was the first Republican to carry The Great Lakes State since 1988.
"It is that level of passion, along with her commitment to building out the ground, data, and digital operation the RNC has been working on for years, that gives me total confidence she is the right woman to lead the RNC," Mr. Priebus said.
On Thursday, one day before the inauguration, the RNC formally chose to install her for the role the new president nominated her for last month.
"I'm excited to have a highly effective leader in Ronna McDaniel as RNC Deputy Chair and I look forward to her serving as the Party's Chairman in 2017," President-elect Trump said in a statement. "Ronna has been extremely loyal to our movement and her efforts were critical to our tremendous victory in Michigan, and I know she will bring the same passion to the Republican National Committee."
On Nov. 8, President-elect Trump and down-ballot candidates performed far better than Republicans had among women in previous cycles, as well as was predicted by the polls. But Ms. McDaniel said in her statement that the party will make an even greater than ever before to reach out to female voters.
"For far too long, Democrats have hailed themselves as the party of women," Ms. McDaniel said. "As Republicans, we know their so-called monopoly on being the party of women is false, and it is a mindset I intend to change."