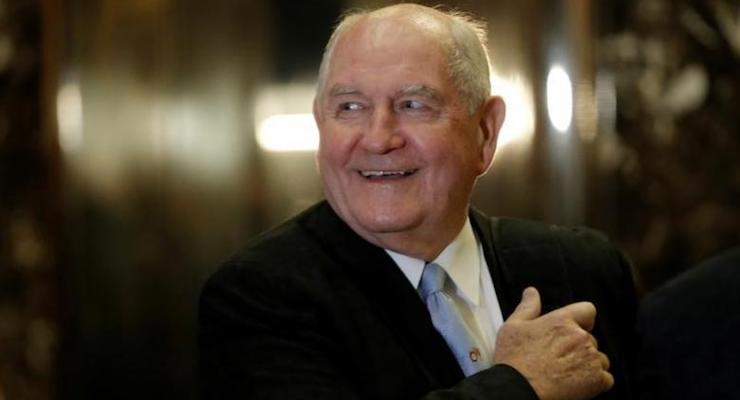 President-elect Donald J. Trump is expected to nominate former Georgia Gov. Sonny Perdue for Secretary of the U.S. Department of Agriculture (USDA). The nomination was expected to be announced by Vice President-elect Mike Pence during a press conference with incoming White House Press Secretary Sean Spicer on Thursday morning.
Former Gov. Perdue, 70, served on President-elect Trump's agricultural advisory committee during his presidential campaign and had long been considered the favorite to head the USDA in a Trump administration. In 2002, he became the first Republican to be elected governor in The Peach State in 130 years. He served as chief executive of the state from 2003 to 2011.
Though he must be confirmed by the Republican-controlled U.S. Senate, his nomination represents the final pick for Mr. Trump's cabinet just before he is sworn in as president on Friday. If confirmed, he will be the first Southerner to lead the Agriculture Department in more than two decades.
While Georgia governor, Mr. Perdue handled a series of crises, including a severe drought in 2007 and a deadly U.S. salmonella outbreak that was traced back to peanut butter made in Georgia.
During the drought, he took steps to cut water usage and even led a service outside the state capitol to pray for rain. He also decided to relocate the state office that issues water permits for irrigation and other agricultural uses from Atlanta to rural south Georgia, where it would be closer to farmers.
Ron Moore, President of the American Soybean Association (ASA), told Reuters he thought Gov. Perdue, the cousin of Sen. David Perdue, R-Ga., would be a staunch supporter of agriculture exports.
"I think he will be very much in favor of trade," Mr. Moore said. The ASA, with 15 other farm groups, this month urged the incoming administration to "protect and enhance" agricultural trade and its impact on the rural economy.
Zippy Duvall, President of the American Farm Bureau, also praised Gov. Perdue in a statement.
"The nomination of former Georgia Governor Sonny Perdue for Secretary of Agriculture is welcome news to the nation's farmers and ranchers," Mr. Duvall said. "Gov. Perdue will provide the strong voice that agriculture needs in the new administration. He is an outstanding nominee."
However, leftwing environmental groups unsurprisingly objected to the nomination.
"Farmers need a champion in the USDA who will fight for conservation programs to help farmers be more resilient in the face of extreme weather, not pray for rain," Kari Hamerschlag, the deputy director of food and technology at Friends of the Earth, said in a statement.
But Mr. Duvall, who has known Gov. Perdue for years, vehemently disagreed.
"The American Farm Bureau looks forward to continuing our work with USDA under Gov. Perdue's leadership. When farmers and ranchers are free to access cutting-edge technologies, reach new markets and make decisions that protect their businesses and resources, we all are better off."