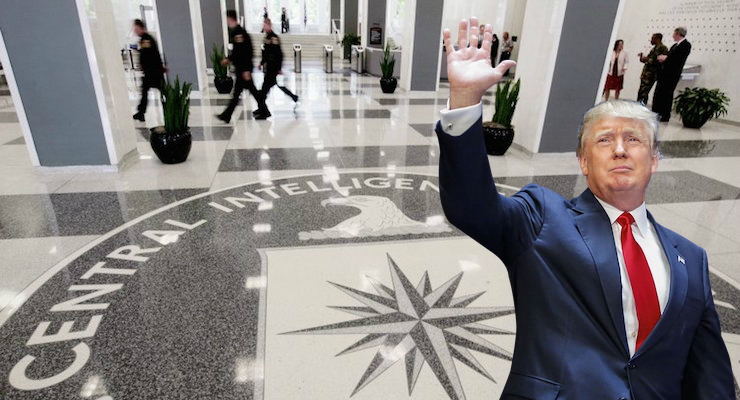 President Donald J. Trump visited the Central Intelligence Agency (CIA) on Saturday in an effort to ease tensions and ensure rank-and-file he had their back. The new president also made clear one of his top priorities is to destroy the Islamic State (ISIS), which many in the agency believe President Barack Obama didn't do enough to do.
"We have to get rid of ISIS. We have no choice. Radical Islamic terrorism, it has to be eradicated," said Trump, on his first full day in the White House and his first official agency stop of his presidency.
Following his private meeting with top CIA leaders, Trump said the U.S. had been "restrained" in its efforts to combat terrorism, calling the threat "a level of evil we haven't seen."
Trump had hoped to have his new nominee for CIA director confirmed when he made the decision to travel to CIA headquarters, but Democrats are slow walking Kansas Rep. Mike Pompeo and other Trump Cabinet picks. But his trip comes after a very public feud with outgoing CIA Director John Brennan over Russia's alleged interference in the 2016 campaign, which he claimed was overblown by the media.
Last week, he asked whether Mr. Brennan leaked an unofficial, unsubstantiated dossier on him containing embarrassing and highly suspect allegations. The accusation, which actually came after Mr. Brennan made unprecedented public criticisms against the new president, also compared the director to living in "Nazi Germany."
"Nobody feels stronger about the intelligence community than Donald Trump," the president said on Saturday. "I love you. I respect you. There's nobody whom I respect more. We are going to start winning again."
But Democrats and the politically appointed Mr. Brennan slammed President Trump for using his CIA visit to criticize Big Media coverage.
"Brennan is deeply saddened and angered at Donald Trump's despicable display of self-aggrandizement in front of CIA's Memorial Wall of Agency heroes," his former aide Nick Shapiro said in a statement. "Brennan says that Trump should be ashamed of himself."
Trump also used the visit to tear into Democrats who are playing politics with national security by holding up the confirmation of Rep. Mike Pompeo, his CIA director nominee. Truth be told, most of the rank-in-file in attendance cheered the new president on as he trashed the media and effort to hold up Mr. Pompeo. When he said "they are among the most dishonest human-beings on the planet," he received a standing ovation and applause.
"We are going to do great things," said Trump,adding Rep. Pompeo would back the CIA and its mission as the country's top spy agency all the way. "Everything he's done is a home run. People like him. People respect him. You are going to be getting a total star."