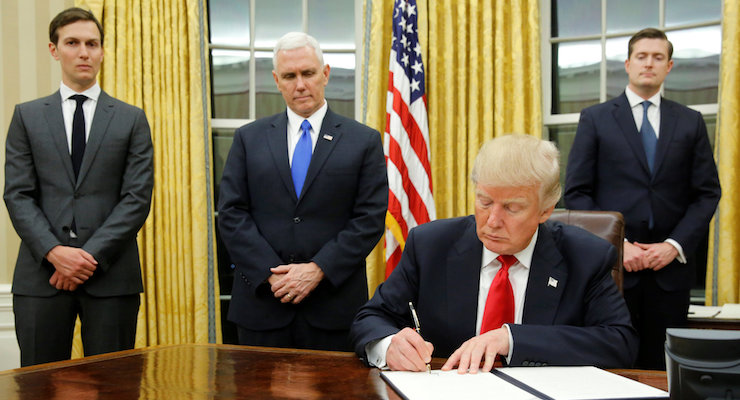 On Monday, President Donald J. Trump aims to take further executive action on trade, immigration and the economy. With respect to trade, the president is expected to sign executive orders as early as Monday stating his intention to renegotiate the North American Free Trade Agreement (NAFTA) and withdraw from the Trans-Pacific Partnership (TPP). The actions would represent a fulfillment of oft-repeated campaign promises, which won him Rust Belt states no Republican has carried since the 1980s.
While the details of the order are unclear, there are a number of actions related to immigration that the new president vowed to take on the campaign trail, which could be considered low hanging fruit.
On immigration, polling shows voters want the Justice Department (DOJ) to get tough on sanctuary cities that refuse to enforce immigration laws. A recent Rasmussen Reports survey found 62% of likely voters say the DOJ should take legal action against cities that provide sanctuary for illegal immigrants.
A review by the Center for Immigration Studies (CIS) of new data from the U.S. Census Bureau shows that 1.5 million new immigrants are settling in the country each year. The American Community Survey (ACS) is the largest survey conducted by the Bureau and it showed newly arrived immigrants are both legally and illegally migrating to the U.S.
When asked, as they did in another recent Rasmussen survey, if they "support the president's [Obama] plan to protect up to five million illegal immigrants from deportation and give many of them legal work permits," a large majority of Americans said no.
A whopping 62% were absolutely opposed to the plan and 56% continue to believe the federal government already isn't doing enough to send illegal immigrants back home. You would never know this if you — say, I don't know — lived in D.C. or only read the Huffington Post.
While someone between three-fourths and two-thirds of the 1.5 million are legal immigrants, including permanent residents as well as long-term visitors such as guest workers and foreign students, the remainder are new illegal immigrants.
People's Pundit Daily reported less than a week before the 2016 presidential election illegal immigrants from around the world were pouring across the U.S.-Mexican border. The review of the data backs up the U.S. Border Patrol agents testimony and apprehension figures.
"We are overwhelmed," said a veteran agent in McAllen, Texas. "We are seeing 800 to 1,000 apprehensions every night."
That type of unfettered immigration policy is one of the main reasons–along with trade–President Trump was the first Republican since the 1980s to carry several states in the Rust Belt, including Michigan, Pennsylvania and Wisconsin.
"In fact, more Americans think immigration should be decreased than increased, and by a nearly two-to-one margin, 41 percent vs. 22 percent," Lydia Saad said regarding another recent Gallup survey.
In fiscal 2016, the U.S. Border Patrol apprehended 117,200 immigrants from Central America, representing almost one-third of all apprehensions. This year, the agency said the number of apprehensions is 5,000 more than during the surge of 2014, the year that was considered an all out border crisis.
Following the Supreme Court's split 4-4 decision blocking the president's executive order on immigration, a SurveyUSA Poll found voters in leftwing San Diego County not only support deportation but are willing to pay for illegal immigrants to be deported. The split was an overwhelming 5:3, with just 34% of San Diego County adults saying those in the U.S. illegally should be allowed to stay and 54% saying illegal immigrants should be deported.