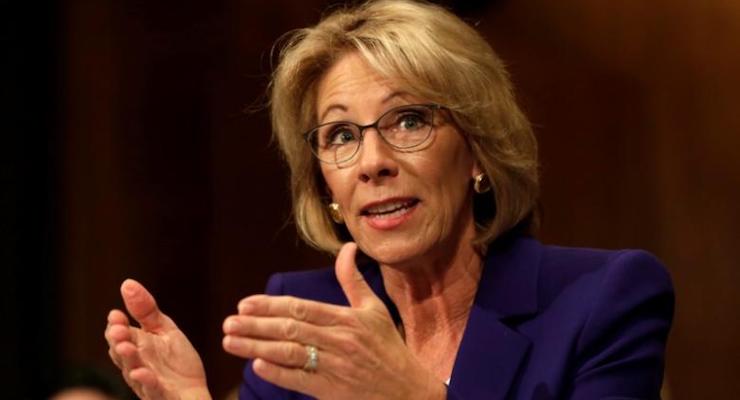 The U.S. Senate voted Tuesday to confirm the nomination of Betsy DeVos for secretary of the U.S. Department of Education. With two Republican senators defecting, Vice President Mike Pence made history by being the first ever to cast a tie-breaking vote to confirm a Cabinet secretary.
Mrs. DeVos is a school-choice champion, education advocate and philanthropist, who has pushed for national education reform for more than two decades. The Michigan native spent more than two decades helping unprivileged children gain quality education and served as the chairwoman of the American Federation for Children.
The group's stated mission is to "improve our nation's K-12 education by advancing systemic and sustainable public policy that empowers parents, particularly those in low-income families, to choose the education they determine is best for their children."
Democrats in the U.S. Senate spoke all night Monday into Tuesday in a last-ditch effort to filibuster and defeat Mrs. DeVos. While Democrats have now obstructed President Trump's Cabinet picks to make his the slowest administration to get confirmed since George Washington, they made the nomination of Mrs. DeVos their hill to die on.
School choice is overwhelmingly supported by the American people, including minority voters in the inner city. But the American Federation of Teachers, the nation's largest teacher union and bankroll for the Democratic Party, opposed her nomination. The AFT and allied groups spent millions to defeat Mrs. DeVos, who wasn't without the support of outside groups.
Read Also – Following the Money Behind Opposition to Betsy DeVos for Education Secretary
"The teachers unions used their money and power to pick off two liberal Republican Senators, but their full-court press for one more Republican vote was defeated by the Club for Growth, as part of a concerted conservative effort," said Club for Growth president David McIntosh. "Betsy DeVos' work for school choice presents a clear threat to the status quo of the teachers unions and they declared war on her nomination."
Sen. Lisa Murkowski of Alaska and Sen. Susan Collins of Maine, the two Republicans who voted "No" on the cofirmation, both are on the teacher union take. Sen. Collins received an "A" grade from the National Educators Association (NEA) in 2008, which the group says was based on her voting record and "effective behind-the-scenes advocacy." Sen. Murkowski was endorsed by the Alaska chapter of the NEA in her 2016 reelection campaign, a group that spent $2,734,000 on lobbying in the same year.
"That's why the Club launched a six-figure investment in TV and digital ads, and robocalls, to caution potential Republican defectors," Mr.McIntosh said, adding his group will "tell constituents in some conservative states that their Senators voted with Washington special interests."
[social-media-buttons]