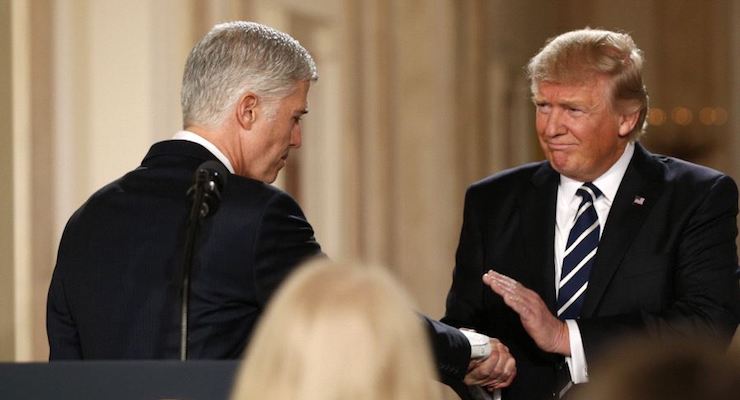 President Donald J. Trump responded on Twitter to the 9th Circuit Court of Appeals decision to uphold the stay on his executive order. "SEE YOU IN COURT, THE SECURITY OF OUR NATION IS AT STAKE!" he tweeted, after the federal appeals court ruled to uphold the suspension of the immigration order.
SEE YOU IN COURT, THE SECURITY OF OUR NATION IS AT STAKE!

— Donald J. Trump (@realDonaldTrump) February 9, 2017
The unanimous decision from the most liberal, most overturned court in the country received heavy criticism almost immediately after it was released. "These concerns are more about litigation rather than constitutional standards in this controversy," liberal law professor Jonathan Turley opined on the judges focus of the case.
While he previously criticized the Justice Department's oral arguments, Professor Turley said the law is nevertheless clearly on the president's side.
"They're not citizens, they're not permanent legal residents," Mark Levin, a conservative talk radio host and constitutional scholar said of those impacted by the travel ban. "They have a visa. That's it! And the government can yank the visa whenever the hell it wants to!"
Alan Dershowitz, another liberal law professor, said the 9th Circuit's ruling was "not a solid decision," adding "Trump will win at the Supreme Court."
Alan Dershowitz: "Trump will win on travel ban at Supreme Court"
'See you in court' #9thCircuit pic.twitter.com/BSB7IKB00Y

— Tennessee (@TEN_GOP) February 10, 2017
"I do not believe that this order constitutes a violation of the establishment clause of the Constitution," the Harvard Law School professor emeritus told "Newsmax Prime" host J.D. Hayworth. "The fact that they picked seven Muslim states, those are the states that have high levels of terrorism. We're talking about Islamic terrorism."
However, the Court is currently split 4/4, with Neil Gorsuch, President Trump's nominee still months away from confirmation.
[social-media-buttons]