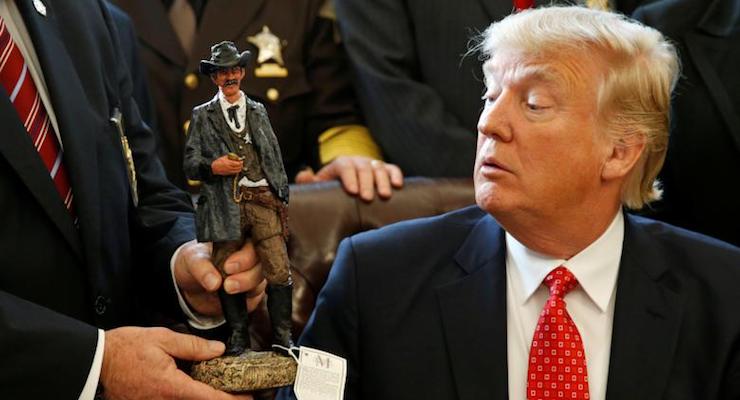 President Donald J. Trump signed three executive orders on Thursday aimed at supporting law enforcement and arresting the increase in violent crime in America. The president took action just one day after the he met with county sheriffs at the White House and only hours after U.S. Attorney General Jeff Sessions was sworn into office by Vice President Mike Pence.
"After the attorney general swearing in, the president signed 3 executive orders dedicated to standing behind the police officers who risk their lives everyday to protect us in our communities,"  White House Press Secretary Sean Spicer said at a press conference on Thursday. "We must better protect those who protect us."
The president's first order–titled, Presidential Executive Order on Preventing Violence Against Federal, State, Tribal, and Local Law Enforcement Officers–instructs the attorney general to work on more effective ways to prosecute those who commit acts of violence and other crimes against law enforcement officials. It asks the Justice Department (DOJ) to "develop a strategy for the Department's use of existing Federal laws to prosecute individuals who commit or attempt to commit crimes of violence against Federal, State, tribal, and local law enforcement officers."
At the meeting on Wednesday at the White House, the nation's county sheriff's protested the Obama's administrations treatment in the face of widespread condemnation from the media and activist groups. Several shootings, whether justified or not, were raised to national prominence by the media. Restoring law and order was a major part of President Trump's campaign and a centerpiece in his both his nomination acceptance speech, as well as his inaugural address.
"Law enforcement officials have been vocal about the lack of support they had from the past administration," Spicer said.
The second executive order establishes a Task Force on Crime Reduction and Public Safety to develop "strategies to reduce crime, including, in particular, illegal immigration, drug trafficking, and violent crime."
Structured by Attorney General Sessions, the Justice Department must submit at least one report to President Trump within 1 year from today, the date of the new order. Subsequent reports are to be required at least once per year while the Task Force remains in existence.
"Together, the members of this task force will come up with specific recommendations," Mr. Spicer said. "Over the last 8 years, we've experienced a declining focus on law and order."
The third and final order–titled, Enforcing Federal Law with Respect to Transnational Criminal Organizations and Preventing International Trafficking–targets cartels and transnational criminal organizations that are engaged in and derive revenue from human and drug trafficking. It directs the Justice Department "to identify, interdict, disrupt, and dismantle transnational criminal organizations and subsidiary organizations."
It aims to "strengthen enforcement of Federal law in order to thwart transnational criminal organizations and subsidiary organizations, including criminal gangs, cartels, racketeering organizations, and other groups engaged in illicit activities that present a threat to public safety and national security.
[social-media-buttons]