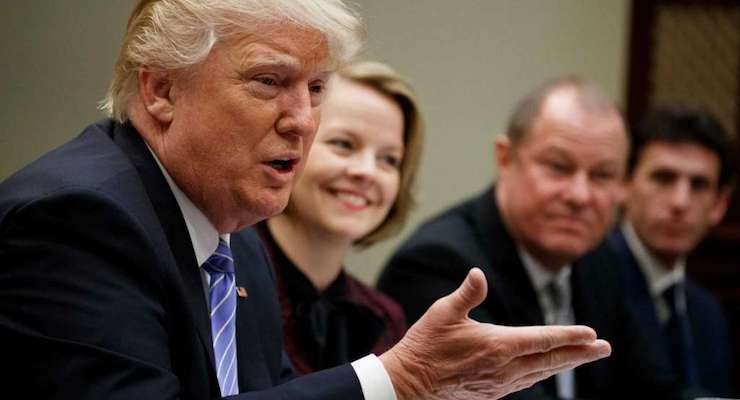 President Donald J. Trump will meet business leaders at the White House on Wednesday to discuss infrastructure, People's Pundit Daily confirmed. It will be his 12th jobs-related meeting with business leaders since taking the oath of office in January.
During his address to a joint session of Congress late last month, President Trump called on Congress to pass a $1 trillion infrastructure program to rebuild roads, bridges, airports and other public works projects. As he did on the campaign trail, the president lamented trillions wasted in the Middle East fighting wars while the nation's infrastructure suffered.
"The time has come for a new program of national rebuilding. America has spent approximately $6 trillion in the Middle East, all this while our infrastructure at home is crumbling," he said. "With this $6 trillion we could have rebuilt our country–twice. To launch our national rebuilding, I will be asking Congress to approve legislation that produces a $1 trillion dollar investment in the infrastructure of the United States – financed through both public and private capital – creating millions of new jobs."
The American Society of Civil Engineers has given U.S. infrastructure a D+ grade. They estimate the nation needs a roughly $3.6 trillion investment by 2020.
"This effort will be guided by two core principles," President Trump said. "Buy American, and hire American."
The lunch meeting will include professionals in private equity, real estate, management consulting and other business leaders. Worth noting, PPD has learned at least one one environmental group was invited, though it wasn't clear which one.
In January, President Trump signed an executive order aimed at expediting environmental reviews and approvals for all infrastructure projects, especially high priority projects "such as improving the U.S. electric grid and telecommunications systems and repairing and upgrading critical port facilities, airports, pipelines, bridges, and highways."
U.S. Transportation Secretary Elaine Chao said last month that public federal funding cannot meet the financial burden for infrastructure are so great the federal government cannot shoulder all the costs.
"Public private partnerships are a very important part of a new way of financing our roads and bridges that are in disrepair and our very dangerous," Mrs. Chao said.
[social-media-buttons]