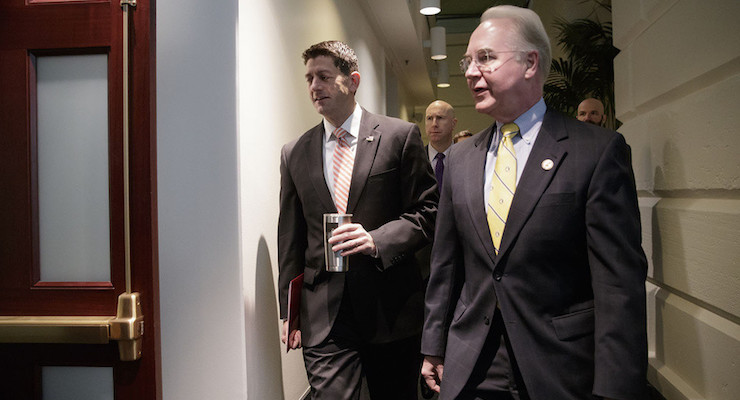 The American Health Care Act, the ObamaCare replacement bill released by House Republicans on Monday, has been met with skepticism from conservatives. House Speaker Paul Ryan, R-Wis., along with members of the Trump Administration–including Health and Human Services Secretary Tom Price, Office of Management and Budget Director Mick Mulvaney–argue the bill represents "phase one" and will ultimately be improved as it makes it way through committee and debate.
But conservatives, most notably Sen. Rand Paul, R-Kty., and Rep. Jim Jordan, R-Ohio, remain skeptical. They want full repeal first and debate after.
"The House leadership Obamacare Lite plan has many problems. It will not pass," Sen. Paul tweeted. "Conservatives are not going to take it."
The more controversial provisions of the replacement include the so-called Cadillac tax, which is preserved indefinitely. The ObamaCare replacement bill put forward by the House eliminates the individual and employer mandates, but other taxes are kept in place for the first year. The House Freedom Caucus and their counterparts in the U.S. Senate say the focus of the replacement bill should be reducing the cost of insurance to Americans.
"The problems with this bill are not just what's in it, but also what's missing: namely, the critical free-market solution of selling health insurance across state lines," Club for Growth President David McIntosh said. "Such an injection of competition would lead to hundreds of billions of dollars in savings, nullifying any argument by Congressional Republicans that this provision cannot be included in the current bill."
President Donald J. Trump addressed the concerns about competition in a tweet Tuesday afternoon. People's Pundit Daily has confirmed that permitting competition across state lines will be actively pushed from the president's bully pulpit.
Don't worry, getting rid of state lines, which will promote competition, will be in phase 2 & 3 of healthcare rollout. @foxandfriends

— Donald J. Trump (@realDonaldTrump) March 7, 2017
I am working on a new system where there will be competition in the Drug Industry. Pricing for the American people will come way down!

— Donald J. Trump (@realDonaldTrump) March 7, 2017
Also at issue are the insurance company subsidies and individual ObamaCare subsidies, which Sen. Paul says are "renamed" refundable credits.
"RyanCare also includes advanceable, refundable tax credits to buy insurance, which is a costly new entitlement that will result in the IRS writing checks to people who pay no income taxes," Ken Cuccinelli, the President of Senate Conservatives Action wrote in an email. "Republicans campaigned on repeal and even sent it to President Obama's desk just one year ago. But now that the election is over, they're talking about "fixing" and "repairing" ObamaCare with the liberal policies that they secretly supported all along."
To pay for insurance, the bill gives Americans a monthly tax credit between $2,000 and $14,000 a year for low- and middle-income individuals and families who don't receive insurance through work or a government program.
"If this warmed-over substitute for government-run health care remains unchanged, the Club for Growth will key vote against it," Mr. McIntosh added. "Republicans should be offering a full and immediate repeal of ObamaCare's taxes, regulations, and mandates, an end to the Medicaid expansion, and inclusion of free-market reforms, like interstate competition."
On Medicaid, the House adopted President Trump's plan to modernize and strengthen the entitlement by moving it to a "per capita allotment" basis, allowing states to play a larger role. In another adoptive presidential provision, the bill establishes a Patient and State Stability Fund. But it only encourages expanding Health Savings Accounts (HSAs) by nearly doubling the amount of money people can contribute and increasing how consumers can use it.
"Republican leaders in Washington have promised to repeal Obamacare in the past four elections and voted to do so numerous times, but now that they can fulfill their promise, they're planning to break their word," Mr. Cuccinelli added. "This is NOT repealing ObamaCare."
[brid video="119682″ player="2077″ title="Sen. Rand Paul Conservatives won&#39t take "Obamacare Lite" March 7 2017″]