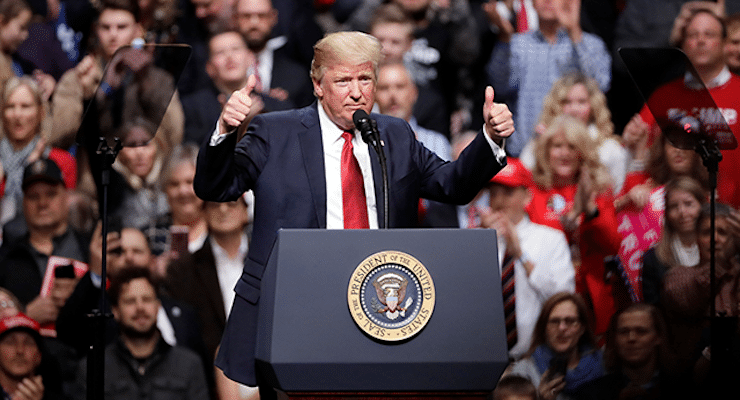 President Donald J. Trump fired back after a federal judge in Hawaii issued a temporary halt on his revised travel ban, calling it "unprecedented judicial overreach." He vowed to fight the order, which he said "makes us look weak," all the way to the U.S. Supreme Court.
"We're going to win," he said.
U.S. District Judge Derrick Watson was nominated to the federal bench by President Barack Obama and is the only Native Hawaiian judge serving on the federal bench, as well as the fourth in U.S. history. He took less than two hours to come back with a ruling following the hearing.
It was based on the Establishment Clause, and he conceded he couldn't stay within the letter of the law because President Trump had proposed a Muslim ban in the past. It also gave non-citizens not on U.S. soil constitutional rights, which they do not have.
Despite the "Muslim ban" claim, the order itself makes no mention of religion and does not give preference to Christian refugees persecuted in the six Muslim-majority nations identified as hotbeds of Islamic terrorism, as the first order was intending. Further, roughly 90% of the world's Muslim population is not impacted by the rewritten order.
"I frankly don't see how that can be sustained," liberal law professor Jonathan Turley said. "I don't see the case law supporting that in the long run."
President Trump's criticism of the liberal activist court not only comes after the ruling but also after he visited the home of former President Andrew Jackson. "Old Hickory" was also a champion of the "common man" who railed against what was a "corrupt aristocracy," much like the political and mediate class in modern America.
In an oft-cited quote that is disputed, President Jackson reportedly responded the relationship between tribes and the state and federal governments, :
"John Marshall has made his decision; now let him enforce it!" President Jackson reportedly responded after the ruling in Worcester v. Georgia, 31 U.S. (6 Pet.) 515 (1832), a landmark case dealing with the relationship between tribes and the state and federal governments.
In truth, we can only verify a letter to John Coffee, in which Mr. Jackson wrote: "…the decision of the Supreme Court has fell still born, and they find that they cannot coerce Georgia to yield to its mandate."
[social-media-buttons]