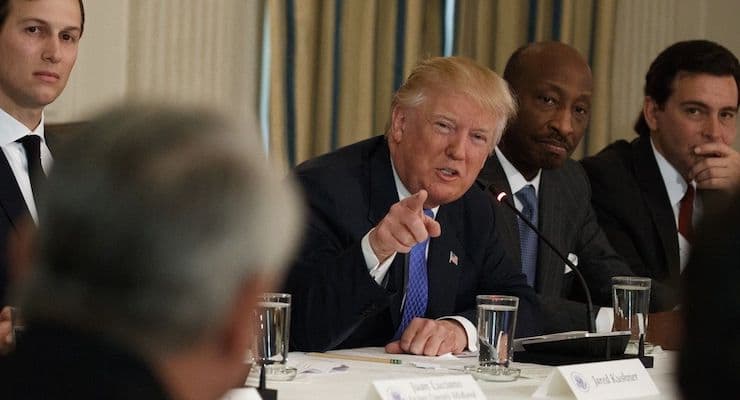 In 2005, the Former New York Businessman Paid More Taxes, Larger Share Than Previous Candidates
President Donald J. Trump paid more in taxes and a higher effective federal tax rate than his predecessor Barack Obama, socialist icon Bernie Sanders and Mitt Romney. According to leaked tax returns from 2005, which leftwing opinion anchor Rachel Maddow on MSNBC bombed in revealing, President Trump paid roughly $38 million in taxes on $150 million in income.
That's an effective federal tax rate of roughly 25%.
In 2015, Mr. Obama released his federal income tax returns showing he and the First Lady filed jointly and reported an adjusted gross income (AGI) of $436,065. The Obamas paid $81,472 in total tax, giving them an effective federal income tax rate of 18.7%.
In 2014, Sen. Sanders and his wife took $60,208 in deductions from their taxable joint income of $205,271. Of course, they are all perfectly entitled to do so because these oft-assailed deductions are legal under and permitted by the U.S. tax code. They paid a total $27,653 in federal income taxes, giving them an effective federal tax rate of just 13.5%. According to the Tax Foundation, the average federal income-tax rate for a couple making $200,000 to $500,000 in 2014 was 15.2%, meaning the class warfare warrior paid a lower-than-average tax rate.
Meanwhile, on average, millionaires and billionaires–the same group of people Sen. Sanders hammered as greedy on the campaign trail last cycle–paid nearly double the federal tax rate that he and his wife did. According to the Tax Foundation, those greedy evil people paid an average effective federal tax rate of 27.4%, slightly higher than the percentage President Trump paid in 2005.
Lastly, Mitt Romney, the 2012 Republican nominee, paid $1.9 million in taxes on $13.69 million in income in 2011, most of it from his investments. That's an effective tax rate of 14.1%.
(UPDATE: A previous version of this article reversed average years for 2005 and 2015.)
[social-media-buttons]