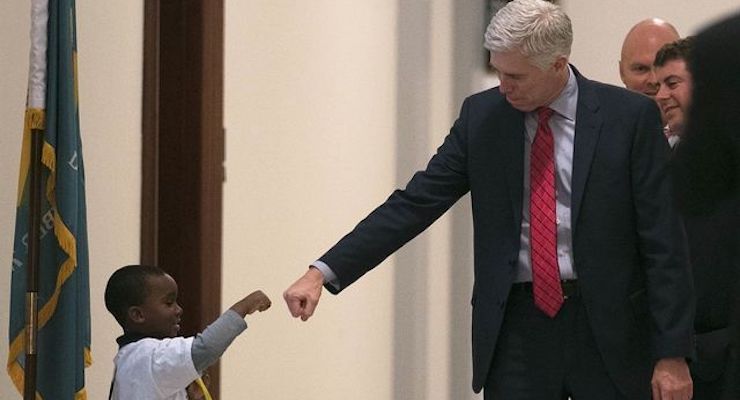 The Senate confirmed Judge Neil Gorsuch to the U.S. Supreme Court on Friday, filling a seat that has been vacant for over a year since the death of Antonin Scalia. The Senate voted 54-45 after the Republicans majority changed the rules to no longer require a super majority.
Senate Majority Leader Mitch McConnell, R-Kty., moved forward with the so-called "nuclear option" after Democrats became the first party in history to ever stage a partisan filibuster. Democrats in states President Donald J. Trump won big began to bail on their party's leadership, but it wasn't enough to get past the procedural vote known as "cloture" the opposition used to block an up-or-down vote.
Republicans were joined by Sens. Joe Manchin, D-W.V., Heidi Heitkamp, D-N.D., and Joe Donnelly, R-Ind., who voted to confirm the President's nominee.
Judge Gorsuch, 49, who served on the U.S. Court of Appeals for the 10th Circuit in Colorado, was appointed in 2006 by President George W. Bush. He was previously a deputy assistant attorney general at the Justice Department and is the youngest Supreme Court nominee in 25 years.
The American Bar Association, which is a known leftwing association, has given him the highest rating available and his opinion has been in "the majority 99% of the time." In July 2006, Judge Gorsuch was confirmed by the Senate unanimously by a voice vote, including the vote of Minority Leader Chuck Schumer, then-Sens. Barack Obama and Joe Biden.
Yet, Sen. Schumer was feeling enormous pressure from the hard left wing currently ruling the party and he in turn pressured Senate Democrats to obstruct the nomination.
Polls show most voters view Judge Gorsuch as mainstream and, further, more voters support his confirmation than they did for President Barack Obama's nominees. Him being viewed as mainstream is fueled in large part by 68% of likely voters believing the Court should rule based on what's written in the U.S. Constitution and legal precedents.