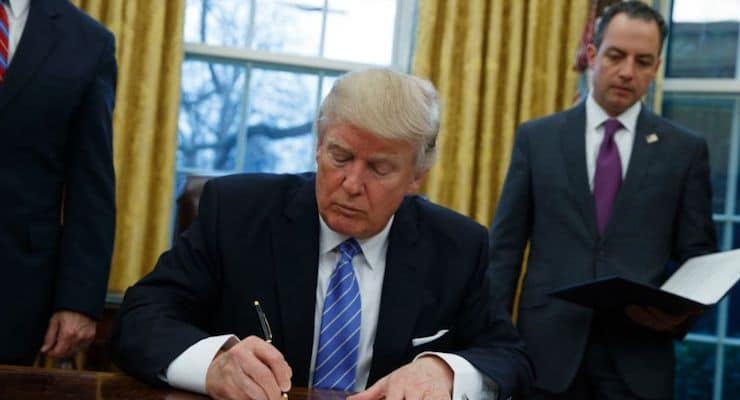 President Donald J. Trump signed two executive orders at the U.S. Department of the Treasury on Friday aimed at financial services and taxes. The President directed the U.S. Treasury to evaluate rules and taxes that stifle economic growth.
"We are now well positioned to evaluate what works and what doesn't," Treasury Secretary Steven Mnuchin said at a press conference before the signing. "We believe in clear and effective regulations."
The order on "Identifying and Reducing Tax Regulatory Burdens" aims to make the tax system "simple, fair, efficient, and pro-growth." It directs the U.S. Treasury to evaluate whether last-year rules and taxes by the Obama Administration place an unduly burden on businesses and stifle economic growth.
"The Treasury Department is the guardian of America's wealth, and a world wide symbol of American prestige," President Trump said a during brief statement before the signing. "We've taken unprecedented action to take back our jobs and return power to our citizens."
Meanwhile, Secretary Mnuchin released a statement on the OFAC sanctions, which Americans energy sought relief from.
"In consultation with President Donald J. Trump, the Treasury Department will not be issuing waivers to U.S. companies, including Exxon, authorizing drilling prohibited by current Russian sanctions," the Treasury secretary said in a statement.