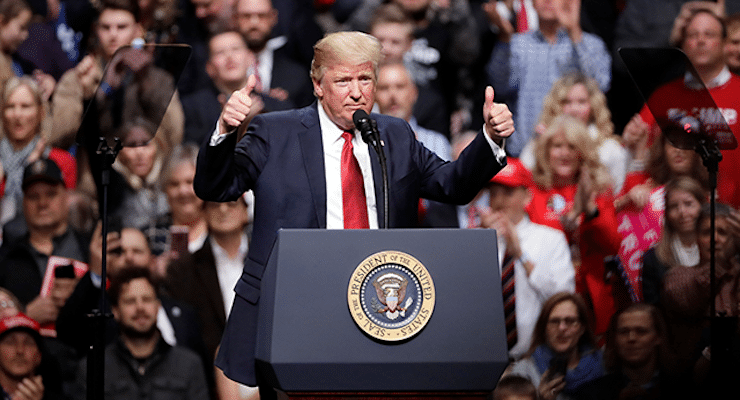 President Donald J. Trump on Tuesday signed an executive order aimed at reducing the regulatory and tax burden on American farmers and agriculture. The order comes shortly after the President announced the U.S. will put a tariff on Canadian soft wood imports in response to the neighbor to the North's longstanding tariff on diary products that hurt American farmers.
Flanked by Department of Agriculture (USDA) Secretary Sonny Perdue and a slew of upbeat farmers and agricultural business leaders, President Trump sign Executive Order Promoting Agriculture and Rural Prosperity in America.
"Farmers led the way across the Great Plains," the President said. "Now, they not only feed the country but the entire world."
The order also establishes the Interagency Task Force on Agriculture and Rural Prosperity (Task Force) to identify legislative, regulatory, and policy changes that promote rural America agriculture, economic development, job growth, infrastructure improvements, technological innovation, energy security and quality of life.
The Secretary of Agriculture, in coordination with the other members of the Task Force, have 180 days from the order to submit a report to the President, through the Assistant to the President for Economic Policy and the Assistant to the President for Domestic Policy, with recommendations for policy changes.
The President also revoked Executive Order 13575 (Establishment of the White House Rural Council) signed on June 9, 2011, which farmers and companies found to be of little use.
"Canada has made business for our dairy farmers in Wisconsin, upstate New York and other states very difficult," President Trump said. "We will not stand for this."
On Monday, the President also signed one Presidential Memorandum for the Secretary of the Treasury after another. They following a Presidential Executive Order on Identifying and Reducing Tax Regulatory Burdens on April 21 that targets regulations and taxes imposed by Barack Obama after January 1 in the waning days of his presidency.
By the end of his first 100 days, President Trump will have taken more executive action than any other president since World War II.