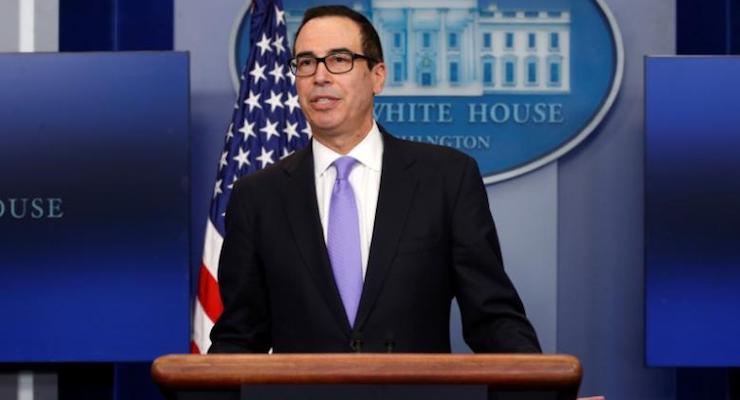 Treasury Secretary Steve Mnuchin confirmed President Donald Trump plans to lower the corporate tax rate to 15%, calling the proposal the "biggest tax cut" for Americans in history.
"This is going to be the biggest tax cut and the largest tax reform in the history of our country," Secretary Mnuchin said. "I will confirm that the business tax is going to be 15 percent. [Trump] thinks that's absolutely critical to drive growth."
His remarks came at a forum hosted by The Hill and as the Trump Administration gears up on Wednesday afternoon to unveil what he described as the "principles" of their tax reform plan. Sources tell People's Pundit Daily that President Trump also wants to slash the top rate for small business owners to 15% from 39.6% and get a big increase in the standard deduction for middle class workers.
Under the plan, a family of four would have a standard deduction of $24,000.
But President Trump will get pushback from critics citing the usual D.C. obstacles to tax reform, the Joint Committee on Taxation (JCT) and the Congressional Budget Office (CBO). The JCT said Tuesday a big cut to corporate taxes would add to long-term budget deficits and the CBO also does not score tax proposals dynamically, assuming dollar for dollar losses that do not factor economic growth.
Democrats, who were silent when President Barack Obama added more to the national debt than all of his predecessors combined, will oppose the plan regardless. But some GOP budget hawks may also push back on the plan. However, conservative pro-free market and economic growth groups are on board with the President's plan.
"The Club for Growth strongly supported President Trump's tax plan when he was a candidate last fall, and today's remarks by Secretary Mnuchin give us continued confidence that the administration is headed in the right direction." said Club for Growth president David McIntosh. "Pro-growth tax reform, like Secretary Mnuchin is describing, will boost economic growth by cutting rates for businesses and individuals. Revenue neutrality should not be the focus. We should not merely shift the tax burden around to keep the same amount of tax dollars flowing in to the federal government."
Secretary Mnuchin, along with White House economic advisor Gary Cohen, held a meeting to brief congressional lawmakers Tuesday night. Mr. Mnuchin said Wednesday morning that the House, Senate and administration are all "on the same page" and said tax reform will be a "major priority."