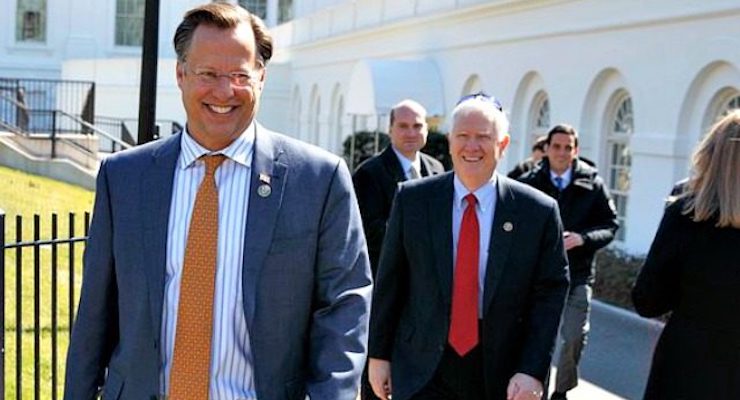 The House Freedom Caucus has released a statement announcing their support for the ObamaCare repeal and replace bill, the American Health Care Act. Rep. Mark Meadows, R-N.C., the chairman of the House Freedom Caucus, backs the new legislation and sources say Republicans anticipate it will pass even with the addition of the MacArthur Amendment.
"Over the past couple of months, House conservatives have worked tirelessly to improve the American Health Care Act (AHCA) to make it better for the American people. Due to improvements to the AHCA and the addition of Rep. Tom MacArthur's proposed amendment, the House Freedom Caucus has taken an official position in support of the current proposal," Meadows said in a statement.
The MacArthur amendment permits states to repeal costs that were left in place under the original AHCA. People's Pundit Daily was first to report last week that the HFC was on board with the latest version of the bill, which would be reintroduced this week after the health care reform bill failed.
While most of the blame for the failure of the initial ObamaCare repeal and replace bill fell on his conservative coalition, roughly two-thirds of the caucus did support the bill after numerous amendments were introduced. But as the bill got more conservative, Republican moderates from the Tuesday Group and more competitive districts began to withdraw support, as well. The President asked House Speaker Paul Ryan, R-Wis., to pull the vote and the White House has been negotiating with the House Freedom Caucus since.
"While the revised version still does not fully repeal ObamaCare, we are prepared to support it to keep our promise to the American people to lower healthcare costs," Rep. Meadows said. "We look forward to working with our Senate colleagues to improve the bill. Our work will continue until we fully repeal ObamaCare."
The Tuesday Group, the moderate wing of the Republican Party, is meeting this afternoon to discuss the changes. However, the bill's conservative critics are in support and it's now a numbers game in the House.
"Today, we believe the hard work of Rep. Mark Meadows and Rep. Tom MacArthur (NJ-03), facilitated by Vice President Mike Pence, has yielded a compromise that the Club for Growth can support," said Club for Growth president David McIntosh. "Since the AHCA was released, conservatives have done the GOP an enormous favor by pushing for needed changes that will benefit taxpayers, including the immediate repeal of Obamacare's taxes and block-granting of Medicaid funding to states."