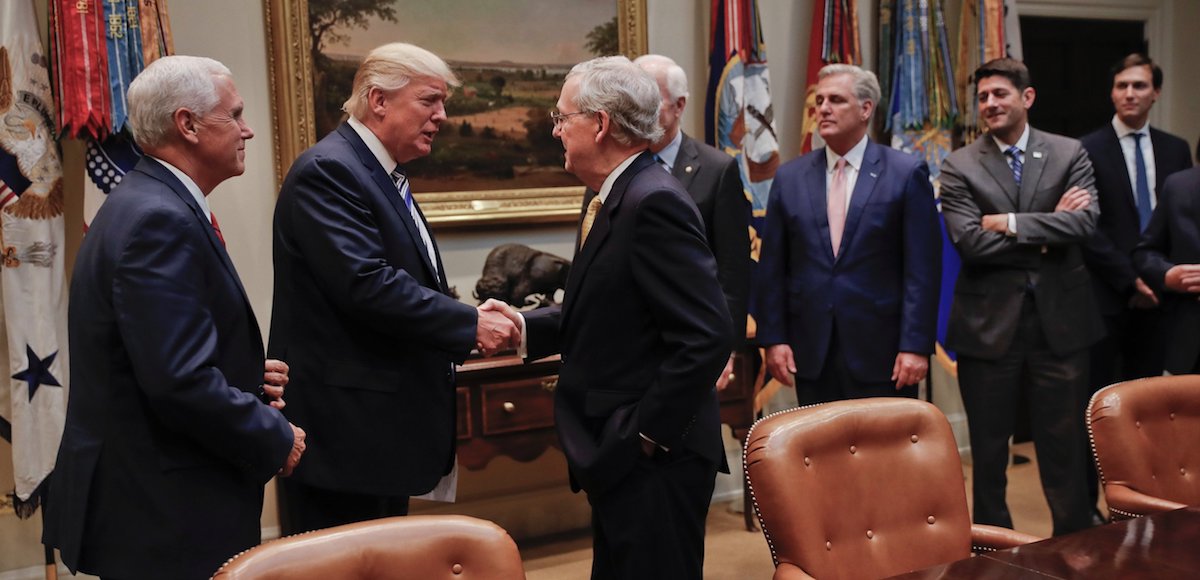 With the July 4 deadline approaching, Republican senators on the working group will give President Donald Trump a new health care bill to review on Tuesday. Majority Leader Mitch McConnell, R-Kty., imposed the deadline to vote on a bill after Republican leaders met with the President at the White House last week to discuss his legislative agenda for the remainder of the year.
Congressional sources tell People's Pundit Daily Leader McConnell and working group members, including Sens. Mike Lee, R-Utah, Orin Hatch, R-Utah, and Lamar Alexander, R-Tenn.–will hand the proposal to the president in draft form subject to changes if necessary.
While the White House has taken unprecedented action to move President Trump's agenda forward, the Republican-controlled Congress has struggled to find its governing footing.
The House passed the American Health Care Act (AHCA) on May 4 after weeks of negotiations and direct presidential involvement. But Leader McConnell established working committees to basically start all over.
Meanwhile, individual insurance markets in Virginia, West Virginia, Iowa, Nebraska and other states have either collapsed or on the verge of collapsing under the weight of insolvency created by ObamaCare, the Affordable Care Act (ACA). In an effort to project urgency, President Trump visited middle America last week joined by two families—one from Dayton, Ohio, and another from Louisville, Kentucky—who have suffered as a result of ObamaCare regulations, cost increases and penalties.
"Thank you for being here and sharing your stories today and giving voice to millions and millions and millions of Americans who are going through turmoil right now. Absolute turmoil," he said. "Health care is about so much more than dollars and cents. It's about real people."
The President also made clear to Republican leaders that he wants to sign tax reform by the fall, which is widely expected to significantly boost economic growth. While the jobs and labor market have gained steam, the U.S. economy, poised to explode, is being hindered by uncertainty caused by congressional inaction.
As People's Pundit Daily previously reported, Senate Republicans are also weighing the option to combine health care reform and tax cuts into one bill. The plan is an effort by a slow-to-act Congress to expedite the passage of President Trump's legislative agenda.
Meanwhile, sources say that the draft proposal will be completed by Monday night, though the timing of the meeting will depend on the President's schedule. President Trump is slated to give a major speech on health care Tuesday afternoon in Milwaukee, Wisconsin.