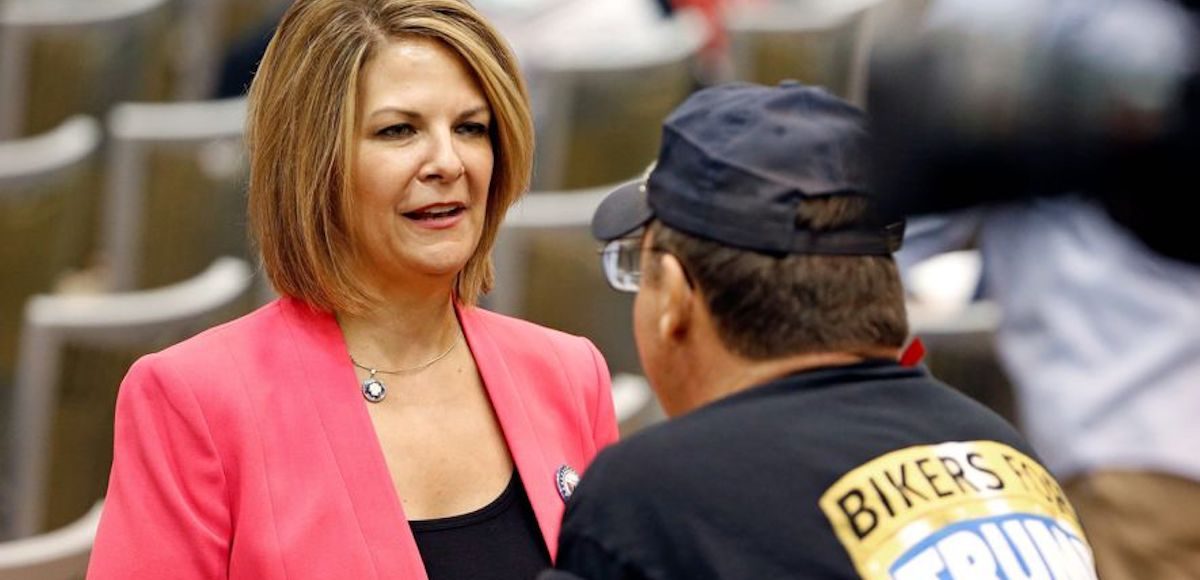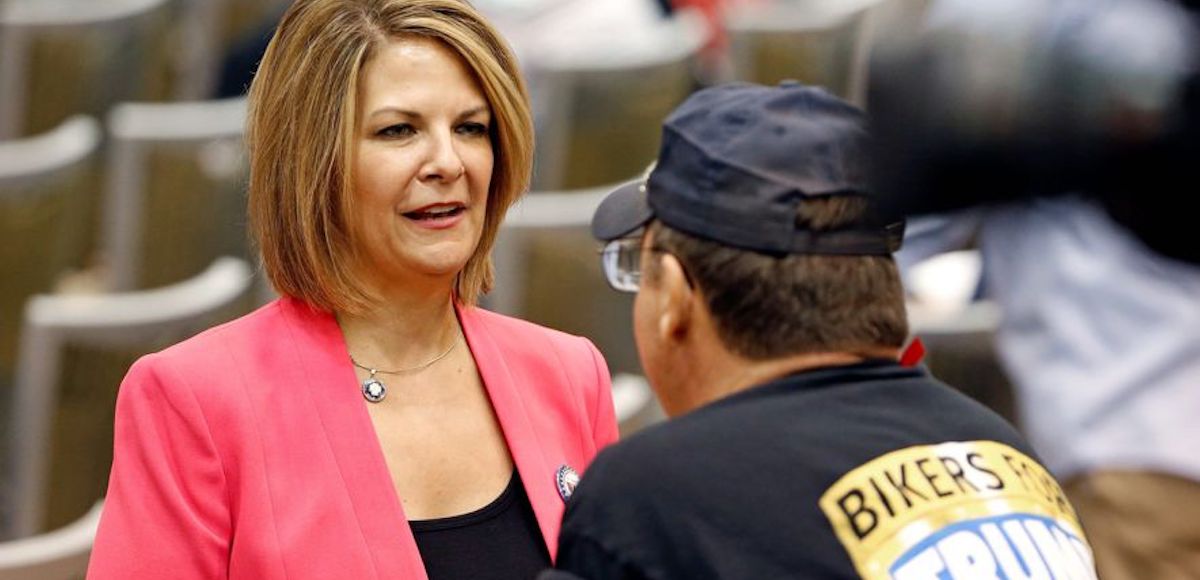 Last week, while Republicans were breaking a 7-year promise to repeal ObamaCare, Dr. Kelli Ward spoke with People's Pundit Daily (PPD) about her bid for the U.S. Senate. It's the first in a series of articles to appear on PPD highlighting upcoming primary battles in the 2018 midterm elections.
She is running in the 2018 Republican primary against Sen. Jeff Flake, a moderate-to-liberal NeverTrump incumbent.
Healthcare
Arizona is one of the states to be hit the hardest under ObamaCare. While premiums for a midlevel plan have seen an average 25% increase across the 39 states with federally-run marketplaces, the people of Arizona have seen a far larger increase.
As a physician and a conservative, it is the issue that drove her to run for office.
"ObamaCare is the biggest takeover of healthcare liberty and healthcare freedom we will ever see in our lifetime," Dr. Ward said. "And it's the biggest expansion of welfare for a healthy, able-bodied adult we will ever see."
Medicaid expansion is predicated on loosening the eligibility requirements by essentially raising the poverty rate. As a result, the percentage of eligible applicants has also increased. Republicans in Congress are afraid to roll back Medicaid expansion even though it was once at the ideological center of the healthcare debate.
Dr. Ward is still making the conservative case, proudly.
"We need to start calling welfare what it is," she said. "We've allowed the Left and the Right to call Medicaid insurance, when Medicaid is welfare."
As with other welfare programs, the expansion was not free or without consequences to working Americans. Premiums have more than doubled in The Grand Canyon State.
According to the Department of Health and Human Services (HHS), a 27-year-old making more than $40,000 buying the second-lowest cost silver plan, has seen a 116% increase in their premiums, from $196 to $422. If the consumer makes $25,000 a year, subsidies would lower their share of the cost to $142, still a sizable chunk of their monthly income.
Dr. Ward proposed and is running on the Patient Power Plan, which calls for a complete and total repeal of ObamaCare. It returns the $800 billion in cuts to Medicare under ObamaCare and provides tax credits–$2,500 per person, $8,000 per family of four–Americans can use to purchase health insurance in the market of their choice, including Health Savings Accounts (HSAs).
"The other piece to that is to encourage–but not demand–that people have a catastrophic care insurance policy," Dr. Ward said. "Healthcare insurance right now is really not insurance. Insurance is something you buy and never hope to use. Catastrophic care is relatively inexpensive because it's insuring against true catastrophes–car accidents, cancer and even expensive chronic illnesses."
In our conversation, Dr. Ward expectedly demonstrated a strong command of the issue. While she would've supported an outright repeal, Dr. Ward argues Republicans in Congress left too many ideas on the table that reduce costs to consumers and adopted too many that benefit insurance companies.
"If we put those two models together, we will be able to increase access to care, improve the quality of care and decrease costs," she said. "Health Savings Accounts are the only thing proven to decrease costs."
When asked about whether there is even a way to cover preexisting conditions, or rather to force insurance companies to cover them without driving up costs, Dr. Ward answered without hesitation.
"No," she responded. "That's why the high risk pool model is actually more successful. We could've taken the 10 million people who supposedly didn't have insurance before ObamaCare and paid cash money for all of their treatments, and we would be very far ahead of where we are now."
Republicans were bludgeoned by attacks surrounding preexisting conditions, which fact-checkers almost unanimously declared to be false. But it was enough to sow doubt into the minds of moderates in both the House and Senate.
"They use emotion, not facts," Dr. Ward said, adding that she intends to use both in her message. "It [emotion] is what connects to voters and emotion gets them to the polls. But I don't believe in lying to the voter in order to get votes. They are hungry for truth, transparency, honestly. They aren't getting it from the people who have been in D.C. for decade after decade."
"That includes Sen. Flake. He's been there for almost two decades."
The Republican Party
Seven Republican senators rejected a "straight repeal" of ObamaCare last week, including Arizona Sen. John McCain, who survived a primary challenge from Dr. Ward in 2016. Sen. McCain was 1 of 3 Republicans senators who also voted against a "skinny repeal" just one day later.
Sen. McCain not only claimed he would repeal ObamaCare during his primary race against Dr. Ward but also the general election, as well.
(Correction: A previous version of this article stated "2010" rather than 2016. J.D. Hayworth of course ran against Sen. McCain in 2010. McCain won 56.2% to 32.1%.)
Jeff Flake did support the bill. However, he only did so because he knew the bill would not pass.
Before he received assurances of cover from his colleagues, he was on the record opposing straight repeal without a replacement plan. He only committed to repeal if the replacement contained the Consumer Freedom Option, which was not in the actual bill.
"I fear for the party, for both of them. Both parties have lost credibility with the voters," Dr. Ward said when asked about the future of the Republican Party. "It was a great way to raise money, it was a great way to get reelected. But it was very disingenuous."
Most Republican lawmakers in Washington D.C. do not want President Donald Trump to succeed. That's just a fact, one that's shockingly underreported. Republican senators, including Sen. Flake, whom Dr. Ward points out "was a NeverTrumper from the beginning," mock the President's proposals behind closed doors.
Many midterm primary challengers, including Dr. Ward, embrace the President's agenda and believe incumbents like Sen. Flake "are in trouble."
As she correctly noted, Sens. McCain and Flake are two of the most unpopular senators in the upper chamber. In July, a Morning Consult Poll ranking senators by popularity found Sens. McCain and Flake behind only Majority Leader Mitch McConnell, R-Kty., as having the highest disapproval ratings in their state, 47% and 45%, respectively.
"Donald Trump is the leader of the new Republican Party. Jeff Flake is outside the new mainstream that exists," Dr. Ward said. "Neither of them are putting forward policy to achieve the America First agenda that Donald Trump has touted on the campaign trail and since he became the President. What they should be doing is finding ideas they agree with and putting those forward so everyone gets a win across the board."
Immigration
Arizona is a border state and immigration is a top issue. It's also one of the issues Establishment Republicans have mocked President Trump over behind closed doors.
Not Dr. Ward.
She's ready to "mix the mortar to fix the border." On social media, she is pushing a powerful ad that reminds voters how Sen. McCain ran ads calling for Congress to "Complete the Dang Fence." But now it's just another broken promise, one he tries to hide from by simply pretending he secured the border.
Unfortunately, the same official that stars in that 2010 ad is now one of his most vocal critics.
"I am a supporter of The Wall," she said, describing her plan as a 4-pronged approach that includes a physical barrier depending on the terrain, utilizing technology, empowering Border Patrol and ICE agents to do their job and accountability.
"The last piece to that puzzle is accountability, accountability for people who are coming into our country illegally, making them realize they are going to have consequences rather than rewards," she said. "But also for employers who are providing one of the magnets that bring them to our country."
In 2014, Barack Obama expanded protection from deportation to the parents of illegal immigrants with Deferred Action for Parents of Americans and Lawful Permanent Residents, or DAPA. The Trump Administration revoked DAPA but has thus far refused to end Deferred Action for Childhood Arrivals, or DACA.
Last month, 10 state attorneys general, led by Texas Attorney General Ken Paxton, wrote U.S. Attorney General Jeff Sessions calling for the Trump Administration to end DACA, as well.
Dr. Ward supports that action.
"I'm glad that DAPA was taken away and I think DACA should be, too. It's unconstitutional," she said. "President Obama had no authority to create that kind of immigration policy. We need to do this in a constitutional and legal way. If I rob a bank, my kids don't get to keep the money. We have to have equal justice and we have to apply our laws as they are on the books."
Conclusion
While we haven't yet released our ratings for the 2018 Senate Election Projection Model, recent data from the People's Pundit Daily Big Data Poll (PPD Poll) indicate 30% of Republican voters would seriously consider sitting out 2018 if Republicans didn't keep their promise to repeal ObamaCare.
With D.C. Republicans' failures and inactions, it isn't at all hard to imagine those voters deciding not to sit it out and instead supporting primary challengers. Indeed, there is already at least some evidence that the political environment will be as anti-Establishment as 2016.
Polling conducted in July for the campaign shows Dr. Ward is the frontrunner among candidates rumored to primary Sen. Flake. She also leads Sen. Flake 48% to 31% among likely GOP primary voters in a two-way race. Dr. Ward leads the more crowded race with 30% to 19% for Sen. Flake, 5% for State Treasurer Jeff DeWit and 2% for former state party chair Robert Graham.
Sen. Flake is rumored to be at the top of the President's list of senators to be targeted for ouster in 2018. His defeat in a primary at the hands of Dr. Kelli Ward would be a major victory for the MAGA agenda.
"Trump's election was like taking the beach at Normandy," Dr. Ward said of the mood in the upcoming midterms. "2018 is storming the hill and planting our flag at the top."