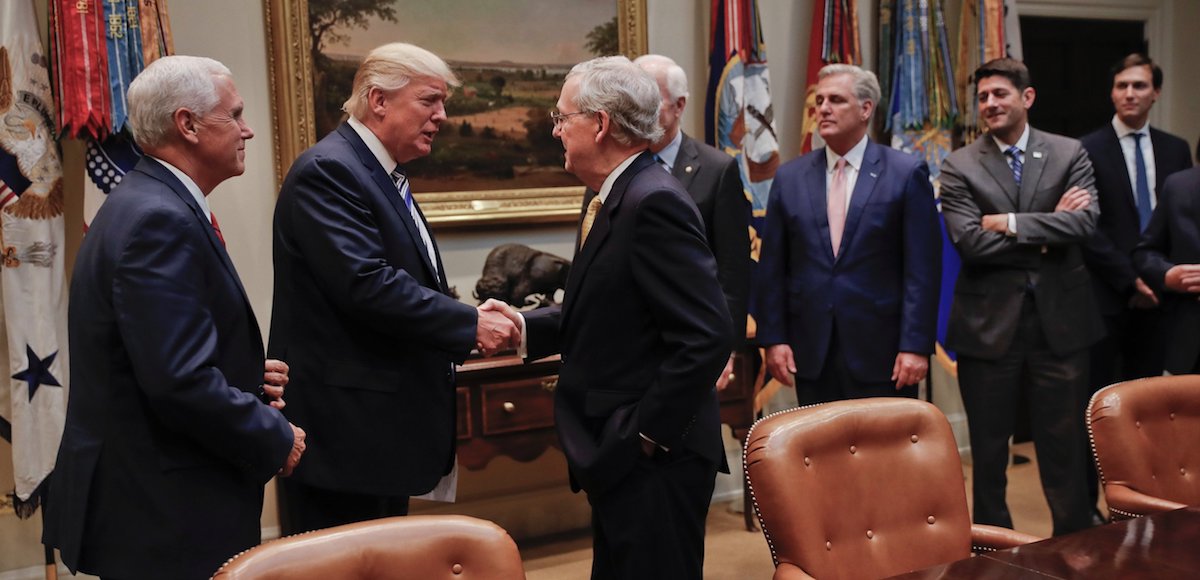 The U.S. Senate on Thursday voted 80 to 17 to approve a measure combining a short-term suspension of the debt ceiling with Hurricane Harvey relief funds. The unpopular two-for-one package now heads to the U.S. House of Representatives where conservatives are vowing to fight it.
All 17 "No" votes were Republicans, many of whom feel slighted by President Donald Trump who negotiated the deal with Democratic leaders on Wednesday.
The package would fund the government and extend U.S. borrowing authority through Dec. 8, as well as provide an initial $15 billion for Harvey in Texas. While the deal avoids a government shutdown at the end of the month, it sets up another fight over spending and the U.S. national debt in December.
House Speaker Paul Ryan, R-Wis., initially wanted a longer-term debt-ceiling increase, but House Minority Leader Nancy Pelosi, D-Calif., and Senate Minority Leader Chuck Schumer, D-N.Y., were the beneficiaries of the meeting Wednesday.
People's Pundit Daily (PPD) has confirmed with multiple sources that the terms of the deal completely blindsided Republican leadership. President Trump has become fed up with Republicans lack of action on key agenda items and, instead, has decided to reach out to Democrats in an effort to get things done.
Senate Majority Leader Mitch McConnell, R-Kty., reluctantly pushed that deal to the floor of the U.S. Senate on Thursday afternoon. However, the future of the bill is less certain in the House, which a day earlier overwhelmingly approved another measure that only appropriated funding for Harvey relief.
Rep. Mark Walker, R-N.C., chairman of the Republican Study Committee, the largest bloc of conservatives in the House, wrote to Ryan on Thursday opposing the measure and warning that many Republicans will not support the deal.
"While some have advocated for a 'clean' debt limit increase, this would simply increase the borrowing authority of the government while irresponsibly ignoring the urgency of reforms," he wrote. "Worse yet is attaching the debt limit to legislation that continues the status quo or even worsens the trajectory on spending, such as the deal announced yesterday by the President and Congressional Leadership. The RSC Steering Committee opposes this proposal."
Nevertheless, Speaker Ryan is unlikely to accept his terms, which include chipping further away at ObamaCare and a balanced budget amendment. In truth, moderate Republicans and Democrats could overcome the opposition.