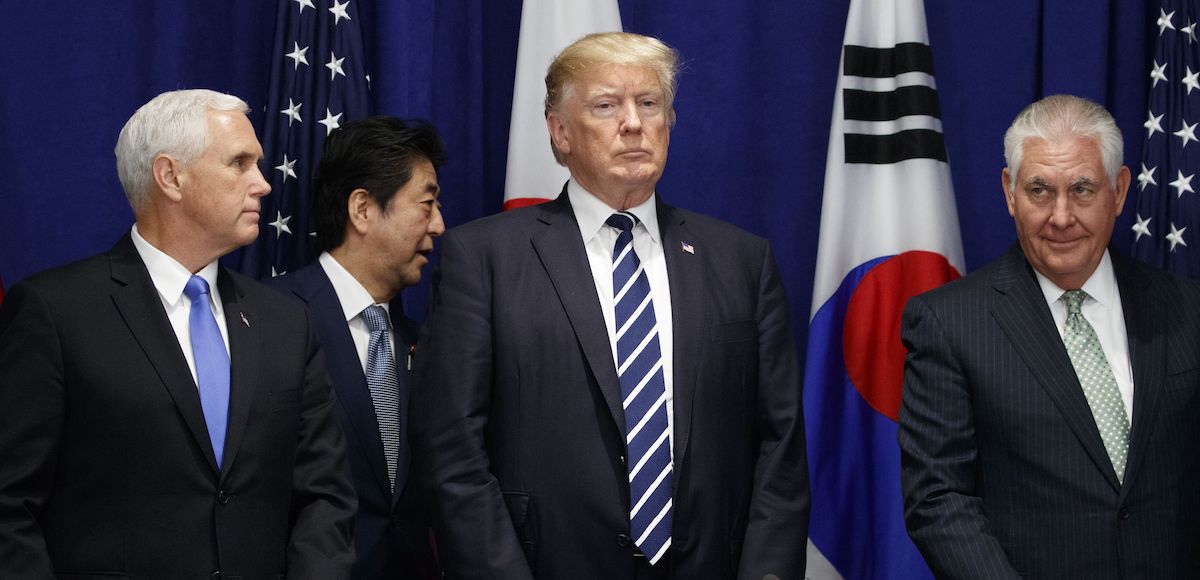 President Donald Trump signed an executive order Thursday targeting nations who trade with North Korea, calling it a "powerful" new tool aimed at isolating and de-nuclearizing the regime. The Presidential Executive Order on Imposing Additional Sanctions with Respect to North Korea came as the U.S. president met with South Korean President Moon Jae-in and Japanese Prime Minister Shinzo Abe at the UN General Assembly.
On Tuesday, President Trump addressed more than 150 international delegations at the UN General Assembly for the first time, laying out the tenets of what he calls principled realism. He argued that North Korea's ballistic missile and nuclear weapons programs threaten the entire world and called out cheater nations who violate unanimously passed UN Security Council resolutions imposing embargoes and trade restrictions on Pyongyang.
"It is an outrage that some nations will trade with the country and arm supplies to the country," he said, warning if the regime continues to threaten the U.S. and to destabilize East Asia, the Trump Administration would be prepared to use overwhelming force.
"We will have no choice but to totally destroy North Korea."
President Trump said the order would help target individuals and companies doing business with the rogue leftwing communist regime. It gives the U.S. Treasury Department authority to target those conducting significant trade with the regime, including the sanctioning of foreign banks.
"It is unacceptable that others financially support this criminal rogue regime," President Trump said. "Foreign banks will face a clear choice. Do business with the United States, or facilitate trade with the lawless regime in North Korea."
Treasury Secretary Steven Mnuchin also weighed in on the sanctions and issued a warning to foreign banks at a news conference Thursday.
"Foreign financial institutions are now on notice that going forward they can choose to do business with the United States or with North Korea, but not both," Mr. Mnuchin said, adding that Treasury can now suspend U.S. account access to foreign banks that knowingly facilitate "significant transactions tied to trade with North Korea."
"For too long, North Korea has evaded sanctions and used the international financial system to facilitate funding for its weapons of mass destruction and ballistic missile programs," Secretary Mnuchin continued. "No bank in any country should be used to facilitate Kim Jong Un's destructive behavior."
The executive order issues a 180-day ban on vessels and aircraft that have traveled to North Korea after visiting the United States. It also gives the green light on sanctions targeting those involved in the construction, energy, financial services, fishing, information technology, manufacturing, medical, mining, textiles, or transportation industries in North Korea.