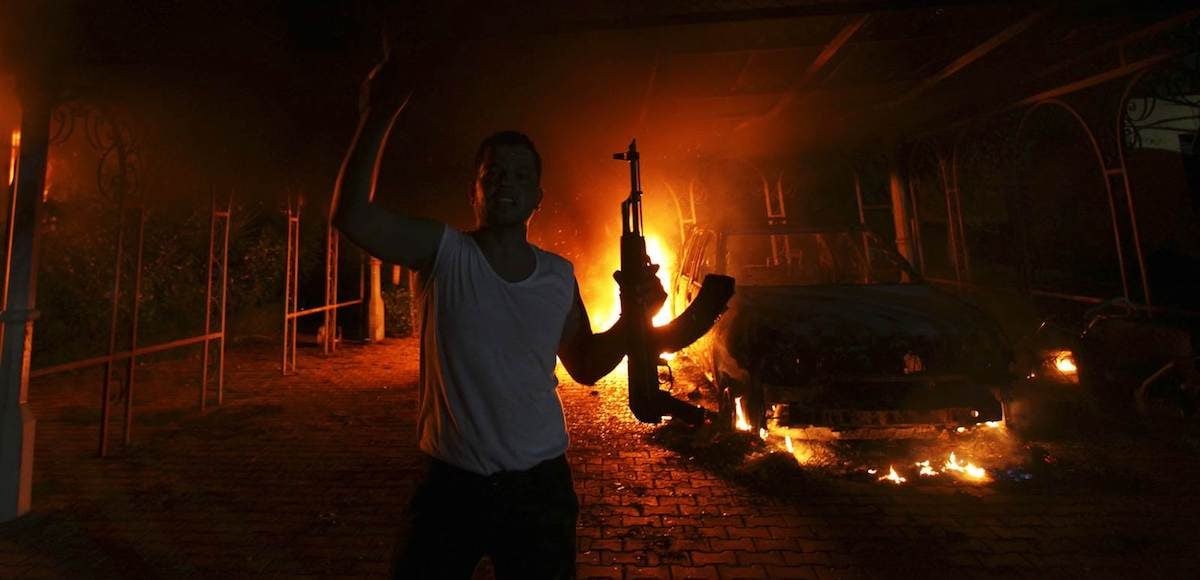 President Donald Trump announced the capture of alleged Benghazi terrorist Mustafa al-Imam in Libya on Sunday, and he "will face justice in the United States." The September 11, 2012 attacks on the U.S. Consulate in Benghazi resulted in the deaths of four Americans, including Ambassador Christopher Stevens, foreign service officer Sean Smith, and former Navy SEAL-turned-CIA contractors Glen Doherty and Tyrone Woods.
"To the families of these fallen heroes: I want you to know that your loved ones are not forgotten, and they will never be forgotten," President Trump said in a statement Monday. "Our memory is deep and our reach is long, and we will not rest in our efforts to find and bring the perpetrators of the heinous attacks in Benghazi to justice."
U.S. special operators captured al-Imam and are currently transporting him back to Washington, D.C., where he will be charged in federal court. The mission was approved by President Trump and carried out in coordination with Libya's internationally recognized government, with praise from the U.S. State Department and Secretary Rex Tillerson.
"I am deeply grateful to the U.S. military, law enforcement, and intelligence community for their efforts to bring to justice the perpetrators of the September 11, 2012 terrorist attacks on U.S. diplomatic facilities in Benghazi, Libya," Secretary Tillerson said. "The Department of State family continues to mourn the loss of Ambassador Chris Stevens, Glen Doherty, Sean Smith, and Tyrone Woods, and we will spare no effort to ensure that justice is served for these dedicated Americans and public servants. I spoke with some of their family members to underscore the U.S. government's unwavering support."
The trial of Ahmed Abu Khattala, the alleged mastermind of the 2012 attacks, began earlier this month. He had been awaiting trial since 2014.
The attack, which became a scandal after the 2012 presidential election, was investigated by the House Select Committee on Benghazi. The committee, which was headed up by Rep. Trey Gowdy, R-S.C., was setup after emails revealed Ben Rhodes, Barack Obama's deputy national security adviser for strategic communications, helped author false talking points used by numerous members of the administration.
Former U.N. Ambassador Susan Rice, who would later become national security advisor, first pushed the false narrative that claimed the attack was a protest started by a YouTube video, which she repeated during Sunday show appearances on ABC, CBS, NBC, Fox News and CNN.
The story was blatantly untrue.
Documents obtained by Judicial Watch and shared with People's Pundit Daily (PPD) revealed top aides to then-Secretary of State Hillary Clinton always knew the Benghazi mission compound was under attack from a terrorist group, and Clinton herself lied to the victims' families.
The committee, which was headed up by Rep. Trey Gowdy, R-S.C., was established after separate emails obtained in April 2014 demonstrated that Mr. Rhodes manufactured the talking points. Rep. Gowdy and the committee released a report faulting the Obama Administration, including Mrs. Clinton.
"I want to thank our law enforcement, prosecutors, intelligence community, and military personnel for their extraordinary efforts in gathering evidence, interviewing witnesses, and tracking down fugitives associated with the attack, capturing them, and delivering them to the United States for prosecution," President Trump added.
"The United States will continue to support our Libyan partners to ensure that ISIS and other terrorist groups do not use Libya as a safe haven for attacks against United States citizens or interests, Libyans, and others."
Rep. Jim Jordan, R-Ohio and then-Rep. Mike Pompeo, R-Kansas, now the Director of the Central Intelligence Agency (CIA), released a 48-page report that went even further. They said the White House and Mrs. Clinton deliberately misled the public, and had the smoking gun to prove it in the form of an email to her daughter, which admitted it was a terror attack.