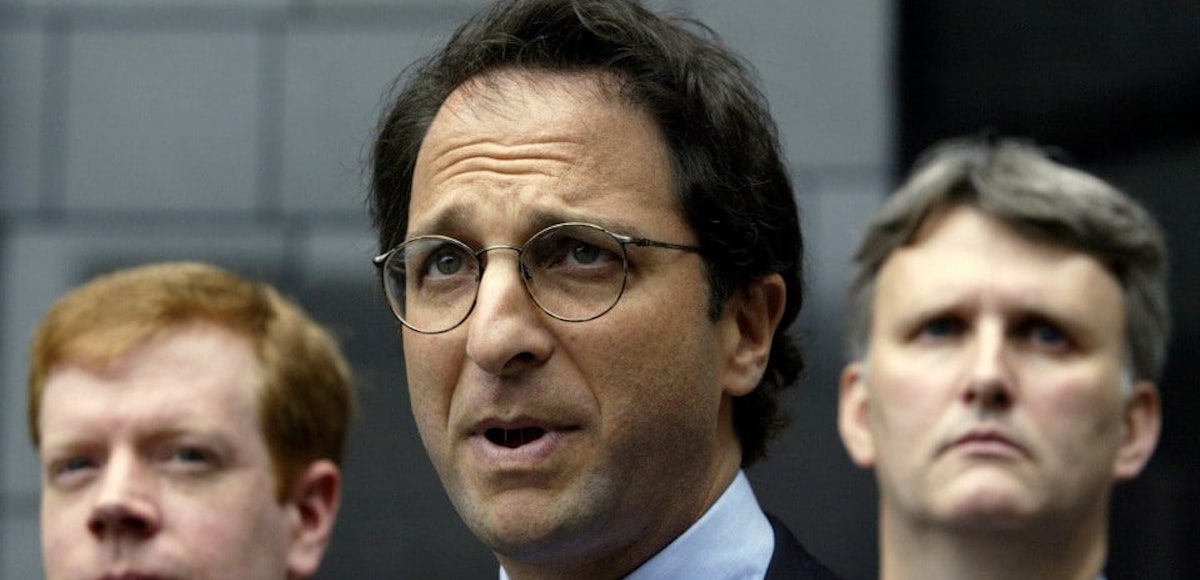 Newly obtained emails reveal a second member of the team assembled by Special Counsel Robert Mueller III harbors ill will toward President Donald Trump. Andrew Weissmann, the former head of the Enron Task Force known for his outside the law tactics, praised Deputy Attorney General Sally Yates for disobeying President Trump on an executive order the U.S. Supreme Court has since upheld.
In one email, which was obtained by Judicial Watch as a result of a Freedom of Information Act (FOIA) lawsuit, shows that on the night of January 30, Andrew Weissmann wrote to Ms. Yates under the subject line, "I am so proud."
"And in awe," Mr. Weissmann continued in the body of the email. "Thank you so much. All my deepest respects."
Ms. Yates was appointed by Barack Obama to be the U.S. Attorney in northern Georgia and later was confirmed as Deputy Attorney General. In January 2017, she became Acting Attorney General and was praised by the Left for refusing to defend President Trump's travel ban. She was fired as a result.
Worth noting, she is also the wife of Comer Yates, who once ran for Congress and gave $3,355 to Mr. Obama's presidential campaigns. A simple OpenSecrets.org lookup discovered the deep ties the Yates family had to the Democratic Party and the deep pockets they reached into to support their candidates up and down the ballot.
Judicial Watch President Tom Fitton called the new revelations from the documents an "astonishing and disturbing find."
"This is an astonishing and disturbing find. Andrew Weissmann, a key prosecutor on Robert Mueller's team, praised Obama DOJ holdover Sally Yates after she lawlessly thwarted President Trump," stated Judicial Watch president Tom Fitton. "How much more evidence do we need that the Mueller operation has been irredeemably compromised by anti-Trump partisans? Shut it down."
The development comes after another top investigator on the Democrat-dominated team assembled by Mr. Mueller was fired over the summer before it could be revealed he was sending anti-Trump texts to another government lawyer, with whom he was having an affair. Peter Strzok not only oversaw the interview with Lt. General Michael Flynn that resulted in charges of lying to federal agents but also of Hillary Clinton, which did not.
UPDATE: We've confirmed Lisa Page, the lawyer having an affair with Mr. Strzok on the other end of his anti-Trump messages, was also hired by the special counsel. She has subsequently departed the team in the hope to avoid these revelations.
People's Pundit Daily (PPD) can also now confirm that Mr. Strzok played a key role in changing the memo drafted by fired former FBI director James Comey to exonerate Mrs. Clinton. The language was amendment to change "gross negligence" to "extreme carelessness" to describe her handling of the classified information.
As PPD previously reported, Mr. Weissmann has given at least $4,300 to Democratic candidates, including Mr. Obama and Mrs. Clinton. But it's his reputation as a politically-motivated prosecutor is equally, if not more troubling than his political preferences.
Sidney Powell, who served as lead counsel in more than 500 federal appeals, filed an ethics complaint against Mr. Weissman along with William Hodes, one of the bar's leading ethics experts. It alleged he not only hid evidence but also called "cooperating witnesses" who gave what he knew to be false testimony.
"During his years on the Enron Task Force, Prosecutor Weissmann was widely known for intimidating witnesses, hiding evidence, and unethical and heavy-handed, if not illegal, tactics," said Powell, who has written about the case for the legal site Seeking Justice.
The Supreme Court unanimously overturned the conviction that Mr. Weissmann and the Enron Task Force secured for the accounting firm Arthur Andersen. The Court specifically cited him giving jury instructions that removed criminal intent from the law and improperly portrayed the law Andersen was charged with breaking.
"Indeed, it is striking how little culpability the instructions required," former Chief Justice William Rehnquist wrote in the opinion. "Only persons conscious of wrongdoing can be said to 'knowingly corruptly persuade."
Ms. Powell noted that jury was told "even if petitioner honestly and sincerely believed its conduct was lawful, the jury could convict," which was not true.
The emails obtained by Judicial Watch are a peek into what many legal scholars have warned is a totally corrupted, partisan Department of Justice. No less than 5 top bureaucrats praised Ms. Yates for her disobedience.